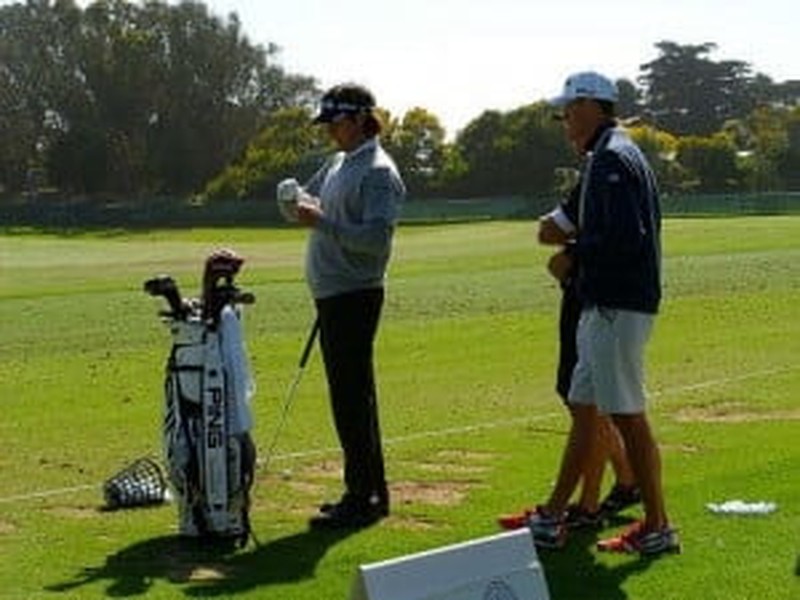 My world of sports just keeps getting better! I had no idea there were so many golfers who love the Lord! Below you will find 10 men that absolutely are on fire for Jesus! Some of these men are active on the PGA tour and some have retired. Here are 10 PGA golfers who profess their faith daily for the saving grace of Jesus Christ!
"The Truth" Romans 8:32 He who did not spare his own Son but gave him up for us all, how will he not also with him graciously give us all things?
10. Davis Love III (Active)
Davis Love III has a big record of wins consisting of 20 PGA tour victories, including winning the championship back in 1997. This man has a big heart for the Lord and for college golfers. He is part of CGF (College Golf Fellowship) and hosts retreats at his house for college age golfers to show them the love of Christ through Bible studies. Larry Mize and Scott Simpson were big influences in his life and led him in PGA Bible studies when he was younger. Now he is giving back to the next generation.
9. Jonathon Byrd (Active)
Jonathon is not as well-known as some of the other golfers, but he has won 5 PGA tour events with his latest being the 2011 Hyundai Tournament of Champions. He is also part of the CGF, helping to give back to the next generation of college age golfers. Jonathon said, "A lot of kids just want to know golf tips, how they can get better, but the best thing I can give those kids is my story, my testimony, how I came to realize that I needed a Savior."
[caption id="attachment_5745" align="alignleft" width="300"] "I had no idea there were so many golfers who love the Lord! Below you will find 10 men that absolutely are on fire for Jesus!"[/caption]

8. Webb Simpson (Active)
Webb is another member of the CGF. He turned pro in 2008 and has 3 PGA tour wins with his latest in 2012 at the U.S. Open. After winning the Wyndham Championship in 2011 he said, "I'd be stupid not to thank my Lord and Savior, Jesus Christ, because it was tough out there and I was nervous, and I felt his presence all day." He is brand new to the CGF and we are excited to see him be active for many more years in it.
7. Jeffrey Cranford (Active)
Jeffrey is the president of Links Players International, whose mission is to "love God and others, integrate Christ's reign and integrity into all of life, network friends together in Christ, kindle compassion for the poor and needy, and to share Christ through the great game of golf." (linksplayers.com) Their vision statement says, "we see people of influence in the kingdom of the world transformed by Christ, that they may become people of impact in the kingdom of God." (linksplayers.com)
6. Bill Rogers (Retired)
Bill Rogers is a big philanthropist who is involved in many different charities including: Opportunities INC, The Children's Bereavement Center of South Texas, Christ Healing Center and Focus On The Family. "Bill focuses his charitable efforts on improving the lives of families facing challenges through his support of organizations such as Focus on the Family. Focus on the Family is about 'helping families thrive.'" (together.pgatour.com) His biggest win was the Open in 1981.
5. Ben Crane (Active)
Ben is also a member of the CGF. He is quite funny too. His "Therapy Sessions – Hair Attachment" video on YouTube is hilarious! He enjoys being in front of the camera and making people laugh. When you read about him on his twitter page he says, "formerly known as boring and slow, now leading a campaign to let yourself go and have fun. Love Jesus, family, golf and being ridiculous." This man loves Jesus and hosts CGF retreats at his house every year for the college golfers.
4. Aaron Baddeley (Active)
Aaron is part of the Fellowship Of Christian Athletes (FCA) and is not ashamed of his faith. During Masters week there is always an annual breakfast. In 2012, Aaron led them in prayer. He is quoted as saying, "It's not just about playing golf, but doing the Lord's work," and "Scriptures like these just give you confidence to know that God always has what's best for you. His desire for our lives is nothing but the best. … His love is so great for you and me that he'd rather die on a cross than live an eternity without you." (Ref Jeremiah 29:11 and Romans 8:28, chronicle.augusta.com)
3. Zach Johnson (Active)
Zach is a member of the FCA and the CGF and has won 7 PGA tour events. He hosts CGF retreats at his house and he shows Jesus to all of the college kids who go. When talking about his own life he told members of the FCA in Cleveland, OH, "Before I was one, I always thought being a Christian would be boring. In reality, it has been the complete opposite. There is joy, fulfillment and even fun! There also are challenges and trials, but knowing that my foundation lies in Jesus and what He has done for me is what is important. It's all that matters."
2. Bobby Clampett (Retired)
Bobby Clampett won only 1 PGA tour event, the Southern Open, back in 1982. When referring to the PGA Tour Bible Study he said, "Many players and their families have discovered what it means to have a personal relationship with the living God and have drawn that relationship into the very fiber of their lives. Personal lives have changed, marriages have been strengthened, careers have been impacted and many have been touched by the grace of God." (bpnews.net) Bobby Clampett understands the platform that he has been given and he is using that to show Jesus to the world. As an athlete, active or retired, people are much more prone to listen to you, so Bobby takes advantage of this to proclaim Christ.
1. Bubba Watson (Active)
Bubba Watson has won 4 PGA tour events including the Masters in 2012. He is very active in his faith. His twitter account says, "Christian. Husband. Daddy. Pro Golfer. Owner of General Lee 1." He is always tweeting about his faith. One of his tweets stated, "God made everything & saved us from our sins & gives us hope and gives us eternal life! #Godisgood." Bubba donates much of his money to charities to help those in need.
I hope you have enjoyed this list of 10 Christian PGA golfers! May God bless you always as you rely on His promises!
What bible verses inspire you in your walk?  Click on this link to see which verses inspired Tim Tebow.  25 Inspirational Tim Tebow Bible Verses
Resources- ESV Holy Bible, Youtube,photo credit: suendercafe via photopin cc, photo credit: suendercafe via photopin cc