Jesus: His Life New TV Series Official Trailer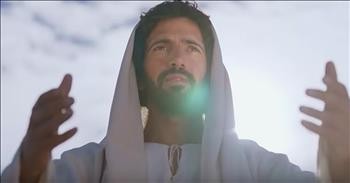 This Easter, explore the story of Jesus Christ like never before with the special 4-part series "Jesus: His Life." From the network that brought us "The Bible," this mini-series will delve deeper into the life of our Savior.

Each of the eight chapters is told from the perspective of different biblical figures, all of whom played a pivotal role in Jesus' life including Joseph, John the Baptist, Mary Mother of Jesus, Caiaphas, Judas Iscariot, Pontius Pilate, Mary Magdalene and Peter. Throughout this innovative series, each figure will take a turn sharing the emotional and epic story of the most famous man in history. The timeline will travel through his birth, death and resurrection utilizing both scripted drama and interviews with prominent religious and historical experts.
We all know the story of Jesus Christ, but this riveting series truly puts everything into a different perspective to paint a complete portrait of the man that we know and love. If you loved "The Bible" series, then you are sure to be captivated by this new program.
"Jesus: His Life: is set to premiere on The History Channel on Monday, March 25 at 8pm ET/PT. The 4-part series will culminate right before Easter, marking the death and resurrection of Jesus Christ. After this fascinating trailer for the program, this is sure to be a television event that you don't want to miss.
John 14:6 "Jesus answered, "I am the way and the truth and the life. No one comes to the Father except through me."
godtube-movie-trailers

14283 views

2019-02-01T11:47:17

source: HISTORY This Easter, explore the story of Jesus Christ like never before with the special 4-part series "Jesus: His Life." From the network that brought us "The Bible," this mini-series will delve deeper into the life of our Savior.

Each of the eight chapters is told from the perspective of different biblical figures, all of whom played a pivotal role in Jesus' life including Joseph, John the Baptist, Mary Mother of Jesus, Caiaphas, Judas Iscariot, Pontius Pilate, Mary Magdalene and Peter. Throughout this innovative series, each figure will take a turn sharing the emotional and epic story of the most famous man in history. The timeline will travel through his birth, death and resurrection utilizing both scripted drama and interviews with prominent religious and historical experts.

We all know the story of Jesus Christ, but this riveting series truly puts everything into a different perspective to paint a complete portrait of the man that we know and love. If you loved "The Bible" series, then you are sure to be captivated by this new program.

"Jesus: His Life: is set to premiere on The History Channel on Monday, March 25 at 8pm ET/PT. The 4-part series will culminate right before Easter, marking the death and resurrection of Jesus Christ. After this fascinating trailer for the program, this is sure to be a television event that you don't want to miss.

John 14:6 "Jesus answered, "I am the way and the truth and the life. No one comes to the Father except through me."
Suggested For You
---
Related Videos
---
Today's Devotional
A Prayer to Love When The World Wants Us to Hate - Your Daily Prayer - September 2
Top Artists