'Victory Is Yours' - Live Performance From Bethel Music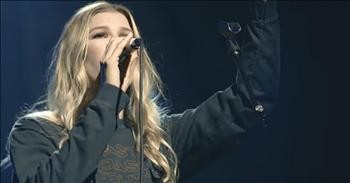 Bethel Music performs their single 'Victory Is Yours' from the new album 'Victory.' This special live performance is filled with worship and praise for His Holy Name.

"Our fight is with weapons unseen
Your enemies crash to their knees
As we rise up in worship
When trials unleash like a flood
The battle belongs to our God
As we cry out in worship"
For years, Bethel Music has flooded the airwaves with worship for our Lord and Savior. This talented collective has given us hits such as 'No Longer Slaves' (
https://www.godtube.com/watch/?v=YKYDGWNX)
and 'One Thing Remains.' (
https://www.godtube.com/watch/?v=00J0EMNU)
Now, they are continuing to spread His message with their newest song and the words are beyond beautiful.
"The victory is Yours
You're riding on the storm
Your name is unfailing
Though kingdoms rise and fall
Your throne withstands it all
Your name is unshaken"
There's something special about the way all of these harmonic voices combine to create such an incredible sound. Bethel Music truly has a gift given from God and I'm so glad that they are following His call to lead worship across the nation. This talented group has once again given us an anthem to sing out loud for all to hear. And these words are a reminder that with God by our side, nothing can bring us down.
Colossians 3:16 "Let the message of Christ dwell among you richly as you teach and admonish one another with all wisdom through psalms, hymns, and songs from the Spirit, singing to God with gratitude in your hearts."
bethel-music

6677 views

2019-01-08T11:42:49

source: Bethel Music Bethel Music performs their single 'Victory Is Yours' from the new album 'Victory.' This special live performance is filled with worship and praise for His Holy Name.

"Our fight is with weapons unseen
Your enemies crash to their knees
As we rise up in worship
When trials unleash like a flood
The battle belongs to our God
As we cry out in worship"

For years, Bethel Music has flooded the airwaves with worship for our Lord and Savior. This talented collective has given us hits such as 'No Longer Slaves' (https://www.godtube.com/watch/?v=YKYDGWNX) and 'One Thing Remains.' (https://www.godtube.com/watch/?v=00J0EMNU) Now, they are continuing to spread His message with their newest song and the words are beyond beautiful.

"The victory is Yours
You're riding on the storm
Your name is unfailing
Though kingdoms rise and fall
Your throne withstands it all
Your name is unshaken"

There's something special about the way all of these harmonic voices combine to create such an incredible sound. Bethel Music truly has a gift given from God and I'm so glad that they are following His call to lead worship across the nation. This talented group has once again given us an anthem to sing out loud for all to hear. And these words are a reminder that with God by our side, nothing can bring us down.

Colossians 3:16 "Let the message of Christ dwell among you richly as you teach and admonish one another with all wisdom through psalms, hymns, and songs from the Spirit, singing to God with gratitude in your hearts."
Today's Devotional
A Prayer for When Time Doesn't Heal a Broken Heart - Your Daily Prayer - July 2
Top Artists