'All Things New' Travis Greene Official Music Video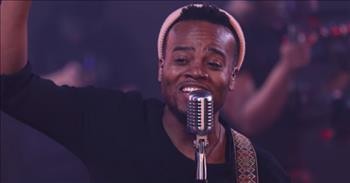 Grammy nominated artist Travis Greene performs his new song 'All Things New' in this inspirational music video.

"Past has held you long enough
But I am drawing you with love
Here now, pouring out my spirit, receive it all
Shame has followed long enough
In this moment it's backing up
Here now, pouring out my spirit, receive it all
I'm making all things new
Freeing you from you
Here comes freedom now"
Travis sings these powerful lyrics with his soulful voice, and the beauty and truth that this song brings will give you chills! It is a reminder that guilt, doubt, and fear are not what the Father has for us. Those are chains that we can break free from because of the love of Christ.
When Travis was growing up, he says that gospel music was always part of his life. "It was like oxygen in our house," he
says
. This was in part to him having a mother who was a minister and a choir director.
The artist who inspired Greene the most when he was younger and strengthened his faith in God was 12-time Grammy winning artist Kirk Franklin. Years later, after Greene became an inspirational trailblazer for his music and ministry, Franklin anointed him as one of the artists who are "the future of gospel music."
On top of his music, Travis Greene and his wife, Dr. Jackie Green, started Forward City Church in Columbia, South Carolina in 2016. They
describe
it as a "church for the unchurched and over-churched."
What a wonderful thing to see Greene using his talents and platform to bring glory to God. "At the end of the day, I simply want music to be my vehicle to inspire people and make them feel right about choosing God,"
says
. "I want to use these opportunities to encourage people, and maybe in the process help redefine the way Christianity looks in our contemporary culture and reveal God in a different way. I'm really excited to raise up the next wave of worshipers and those called to share the love of God through music. I want to be part of helping carry the torch into the future."
Revelation 21:5
And he who was seated on the throne said, "Behold, I am making all things new." Also he said, "Write this down, for these words are trustworthy and true."
travis-greene

744 views

2019-12-05T15:58:52

source: Travis Greene Grammy nominated artist Travis Greene performs his new song 'All Things New' in this inspirational music video.

"Past has held you long enough
But I am drawing you with love
Here now, pouring out my spirit, receive it all
Shame has followed long enough
In this moment it's backing up
Here now, pouring out my spirit, receive it all
I'm making all things new
Freeing you from you
Here comes freedom now"

Travis sings these powerful lyrics with his soulful voice, and the beauty and truth that this song brings will give you chills! It is a reminder that guilt, doubt, and fear are not what the Father has for us. Those are chains that we can break free from because of the love of Christ.

When Travis was growing up, he says that gospel music was always part of his life. "It was like oxygen in our house," he says. This was in part to him having a mother who was a minister and a choir director.

The artist who inspired Greene the most when he was younger and strengthened his faith in God was 12-time Grammy winning artist Kirk Franklin. Years later, after Greene became an inspirational trailblazer for his music and ministry, Franklin anointed him as one of the artists who are "the future of gospel music."

On top of his music, Travis Greene and his wife, Dr. Jackie Green, started Forward City Church in Columbia, South Carolina in 2016. They describe it as a "church for the unchurched and over-churched."

What a wonderful thing to see Greene using his talents and platform to bring glory to God. "At the end of the day, I simply want music to be my vehicle to inspire people and make them feel right about choosing God," says. "I want to use these opportunities to encourage people, and maybe in the process help redefine the way Christianity looks in our contemporary culture and reveal God in a different way. I'm really excited to raise up the next wave of worshipers and those called to share the love of God through music. I want to be part of helping carry the torch into the future."

Revelation 21:5
And he who was seated on the throne said, "Behold, I am making all things new." Also he said, "Write this down, for these words are trustworthy and true."

Today's Devotional
A Prayer for the Filling of God's Power and Love - Your Daily Prayer - August 4
Top Artists