Trio Of Men Sing 'We Three Kings' Christmas Hymn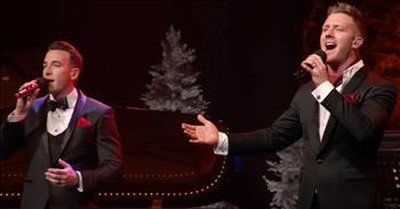 Remember the real reason for the season as the trio from GENTRI perform the classic Christmas song 'We Three Kings.' This iconic carol was written by John Henry Hopkins Jr. in 1857 and it's become one of the most popular Christmas songs of all time.

'We three kings of orient are,
Bearing gifts we traverse afar
Field and fountain, moor and mountain,
Following yonder star.'
GENTRI was formed in 2014 by members Brad Robins, Casey Elliott and Bradley Quinn Lever. On their website, the group describes their unique sound as "a signature sound they call "Cinematic Pop," the music of GENTRI is transfused with lush, epic orchestrations and rich, dynamic three-part harmonies."
From original songs to talented covers, these men always delight the audience with their stunning performances.
Today, GENTRI is helping us get in the Christmas spirit with this chilling rendition of 'We Three Kings' at the Maverik Center in West Valley City, Utah.
Just listen as their anointed voices lift up our Savior in praise.
'Oh, star of wonder, star of night,
Star with royal beauty bright.
Westward leading, still proceeding,
Guide with thy perfect light.'
There is no greater gift than God's gift of His only Son. This Christmas, let us remember that ultimate gift and use the time to give thanks to those in need.
Matthew 2:11 "And going into the house they saw the child with Mary his mother, and they fell down and worshiped him. Then, opening their treasures, they offered him gifts, gold and frankincense and myrrh."
godtube-christmas

1285 views

2021-11-09T12:25:31

source: GENTRI Remember the real reason for the season as the trio from GENTRI perform the classic Christmas song 'We Three Kings.' This iconic carol was written by John Henry Hopkins Jr. in 1857 and it's become one of the most popular Christmas songs of all time.

'We three kings of orient are,
Bearing gifts we traverse afar
Field and fountain, moor and mountain,
Following yonder star.'

GENTRI was formed in 2014 by members Brad Robins, Casey Elliott and Bradley Quinn Lever. On their website, the group describes their unique sound as "a signature sound they call "Cinematic Pop," the music of GENTRI is transfused with lush, epic orchestrations and rich, dynamic three-part harmonies."

From original songs to talented covers, these men always delight the audience with their stunning performances.

Today, GENTRI is helping us get in the Christmas spirit with this chilling rendition of 'We Three Kings' at the Maverik Center in West Valley City, Utah.

Just listen as their anointed voices lift up our Savior in praise.

'Oh, star of wonder, star of night,
Star with royal beauty bright.
Westward leading, still proceeding,
Guide with thy perfect light.'

There is no greater gift than God's gift of His only Son. This Christmas, let us remember that ultimate gift and use the time to give thanks to those in need.

Matthew 2:11 "And going into the house they saw the child with Mary his mother, and they fell down and worshiped him. Then, opening their treasures, they offered him gifts, gold and frankincense and myrrh."

Today's Devotional
A Prayer for Joy - Your Daily Prayer - August 13
So how can we stay in the joy of the Lord all day long, regardless of our circumstances? Here are a few things that we can be intentional about:
Top Artists
Top Music Videos