Today's Devotional
A Prayer to be the Hands and Feet of Christ - Your Daily Prayer - May 27, 2018"Whatever you did for one of the least of these brothers and sisters of mine, you did for me."
Top Artists
Grace Unplugged - Official Movie Trailer and Sneak Peeks!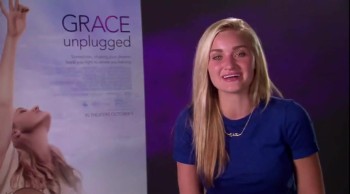 GRACE UNPLUGGED is an inspirational movie starring Amanda "AJ" Michalka as 18-year-old Christian singer/songwriter, Grace Rose Trey. Beautiful, highly talented and restless, Grace is undiscovered outside church, where she performs each Sunday with her gifted father, Johnny. A former rock star, Johnny Trey charted a Billboard number one single 20 years ago. When the hits stopped coming, he crash-landed hard before finding Christ and starting a new life for his family, far from the Hollywood Hills.

One day without warning, Grace leaves for Los Angeles. She has landed a record deal with the help of Johnny's ruthless former manager and producer, "Mossy" Mostin. Mossy sees in Grace a potential pop superstar. Cutting off contact with her parents, Grace seems prepared to walk away from her Christian faith and music to achieve her long-suppressed fantasy of Hollywood superstardom. Will the experience cause her to reject her faith, or rediscover it? IN THEATERS OCTOBER 4, 2013
Embed

gracehillmedia

59941 views

2013-06-18T19:39:04

GRACE UNPLUGGED is an inspirational movie starring Amanda "AJ" Michalka as 18-year-old Christian singer/songwriter, Grace Rose Trey. Beautiful, highly talented and restless, Grace is undiscovered outside church, where she performs each Sunday with her gifted father, Johnny. A former rock star, Johnny Trey charted a Billboard number one single 20 years ago. When the hits stopped coming, he crash-landed hard before finding Christ and starting a new life for his family, far from the Hollywood Hills.

One day without warning, Grace leaves for Los Angeles. She has landed a record deal with the help of Johnny's ruthless former manager and producer, "Mossy" Mostin. Mossy sees in Grace a potential pop superstar. Cutting off contact with her parents, Grace seems prepared to walk away from her Christian faith and music to achieve her long-suppressed fantasy of Hollywood superstardom. Will the experience cause her to reject her faith, or rediscover it? IN THEATERS OCTOBER 4, 2013
Suggested for You
---
Related Videos
---