'Fall on Me' Andrea Bocelli and Son 'Nutcracker and the Four Realms'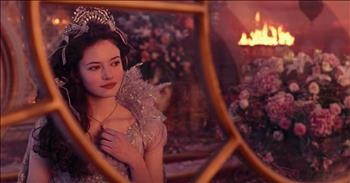 Andrea Bocelli and son, Matteo Bocelli, have taken the internet by storm with their duet of "Fall on Me". Now, the beautifully haunting song has been released as the feature for Disney's 'Nutcracker and the Four Realms' soundtrack. The movie opens in theatres around the country November 1.

"Anyone who is a parent, anyone who knows the precious responsibility of being a mother or a father, will fully grasp the meaning of this piece. 'Fall on Me' is the first time I have duetted with my son Matteo Bocelli." Andrea posted on social media.
The movie 'Nutcracker and the Four Realms' is based on the beloved ballet "The Nutcracker". Clara (Mackenzie Foy) is looking for a special key to unlock a box which holds a gift from her late mother. The key is given to her by her godfather, Drosselmeyer (Morgan Freeman) but falls into another world full of unique characters and four realms: Land of Snowflakes, Land of Flowers, Land of Sweets, and the land ruled by Mother Ginger (formerly the Land of Amusements). It is in the fourth realm that Clara's key must be retrieved but first, she has to face Mother Ginger.
"I'm willing to fight for it,
And carry this weight
But with every step
I keep questioning what it's true"
Hearing the lyrics in context of Clara coming to terms with her Mother's death makes them that much more emotional.
"I close my eyes
And I'm seeing you everywhere
I step outside,
It's like I'm breathing you in the air
I can feel you're there"
Perhaps Clara's challenge in the Fourth Realm signifies the joy that feels stolen from the real-world Clara after her Mother's death? There is no doubt that her Mother's undying love will help Clara face her fears and help right the unbalance in these fantasy realms of her dreams!
"Fall on me, With open arms
Fall on me, From where you are
Fall on me, With all your light
With all your light, With all your light"
andrea-bocelli

12980 views

2018-10-22T14:46:00

source: Andrea Bocelli Andrea Bocelli and son, Matteo Bocelli, have taken the internet by storm with their duet of "Fall on Me". Now, the beautifully haunting song has been released as the feature for Disney's 'Nutcracker and the Four Realms' soundtrack. The movie opens in theatres around the country November 1.

"Anyone who is a parent, anyone who knows the precious responsibility of being a mother or a father, will fully grasp the meaning of this piece. 'Fall on Me' is the first time I have duetted with my son Matteo Bocelli." Andrea posted on social media.

The movie 'Nutcracker and the Four Realms' is based on the beloved ballet "The Nutcracker". Clara (Mackenzie Foy) is looking for a special key to unlock a box which holds a gift from her late mother. The key is given to her by her godfather, Drosselmeyer (Morgan Freeman) but falls into another world full of unique characters and four realms: Land of Snowflakes, Land of Flowers, Land of Sweets, and the land ruled by Mother Ginger (formerly the Land of Amusements). It is in the fourth realm that Clara's key must be retrieved but first, she has to face Mother Ginger.

"I'm willing to fight for it,
And carry this weight
But with every step
I keep questioning what it's true"

Hearing the lyrics in context of Clara coming to terms with her Mother's death makes them that much more emotional.

"I close my eyes
And I'm seeing you everywhere
I step outside,
It's like I'm breathing you in the air
I can feel you're there"

Perhaps Clara's challenge in the Fourth Realm signifies the joy that feels stolen from the real-world Clara after her Mother's death? There is no doubt that her Mother's undying love will help Clara face her fears and help right the unbalance in these fantasy realms of her dreams!

"Fall on me, With open arms
Fall on me, From where you are
Fall on me, With all your light
With all your light, With all your light"
Suggested For You
---
Related Videos
---
Today's Devotional
A Prayer for Intentional Marriage - Your Daily Prayer - October 14
Top Artists