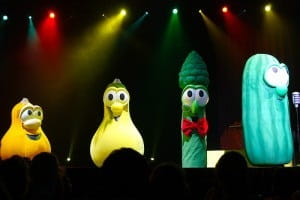 The world of animation is so HUGE right now.  Every year, companies are producing animated films for children and adults alike.  There are many great animated films that are great for your kids to watch that are just plain funny and have good life lessons.  Here is my list of the 8 of the best Christian animated movies.  These are in no particular order.
The Legend of the Three Trees
This wonderful story showcases three trees that all have big dreams for themselves.  An olive tree wants to become the most beautiful treasure chest of all-time, but gets turned into a feeding trough for animals.  An oak tree wants to become part of a king's ship, but only is put on a small fishing boat.  The pine tree wants to keep growing and become the biggest tree in the forest.  Instead, lightning hits it and it falls down.  Then it gets tossed into a brush pile.  All three trees' destinations were not what they wanted, but God had better plans for them.  Watch the movie to find out what God's plan was for them!
Beginners Bible for Kids: David and Goliath
This wonderful animated story tells the classic tale of David and Goliath.  There is some humor mixed in to keep the kids entertained, and it is funny.  There is also music and song to help progress the story along.  It will keep your kids 7 and under entertained for sure!  This has always been a great story of how God is strong for us in all circumstances.
Veggie Tales: King George and the Ducky
This is one of my all-time favorite veggie tales movies.  King George is not happy with his life and wants more and more duckies.  He has many but when he sees a little child (junior asparagus) far off with a ducky, he orders that it be brought to him and he sends the poor lad out into the great pie wars.  This is a light hearted version of the story involving David, Bathsheba and Uriah from 2 Samuel chapters 11 and 12.  This one like all of the others has a great Bible lesson to learn.
The Greatest Adventure: The Nativity
The Greatest Adventure programs are older but they are AWESOME!  This one in particular is really good.  It follows the story of Jesus as Joseph and Mary ride into Bethlehem on donkeys to find a place for Mary to give birth to Jesus and how King Herod attempts to kill Jesus.  This is a very accurate depiction of the story from the Bible.
Hermie and Friends
These are wonderful 30 minute cartoons about a caterpillar named Hermie and all of his friends.  Every episode teaches truths straight out of the Bible.  Here are a few names of titles so you can get an idea: Flo the Lying Fly, The Mantis Who Wouldn't Pray, I Will Tell the Truth, I Won't Be Afraid, and Buzby and the Grumble Bees.
Greatest Legends and Heroes of the Bible: Joseph and the Coat of Many Colors
This is a really accurate depiction of the story of Joseph from when he is sold into slavery all the way until he is reunited with his brothers.  The story is told well and God's Word is proclaimed.  All of the core scenes are in this movie: Joseph being sold into slavery, Joseph in Potiphar's house, Joseph's rise to 2nd in command and so-on.  The animation is pretty decent too!
Veggie Tales: The Pirates Who Don't Do Anything
This is a full length feature film which debuted in theaters in 2008.  While there is a slight parallel to Matthew 28 in terms of the return of the king in the movie, this film mostly focuses on good morals that all parents should want for their children.  The movie teaches about self-sacrifice and doing the right thing.  And as with all Veggie Tales programs, there is laughter to be had!
Trailer
How the Grinch Stole Christmas
Although this movie is not based off of any Bible verses, this movie is saturated with the meaning of Christmas.  I love the end where the Grinch says, "It came without ribbons.  It came without tags.  It came without packages, boxes or bags!"  What a great lesson.  Christmas isn't supposed to focus on the presents and gifts.  It is all about our Lord and Savior, Jesus Christ and his most blessed birth!  This movie has stood the test of time, which is why it is a classic loved by many during the Christmas season.  Do you remember the first time you really understood the meaning of Christmas?
Conclusion
These are 8 of some of the best Christian animated movies for kids.  They all have great messages in them and are all worth watching.  What are some of your favorites?  Please feel free to comment below.  God bless!
photo credit: Joe Plocki (turbojoe) via photopin cc