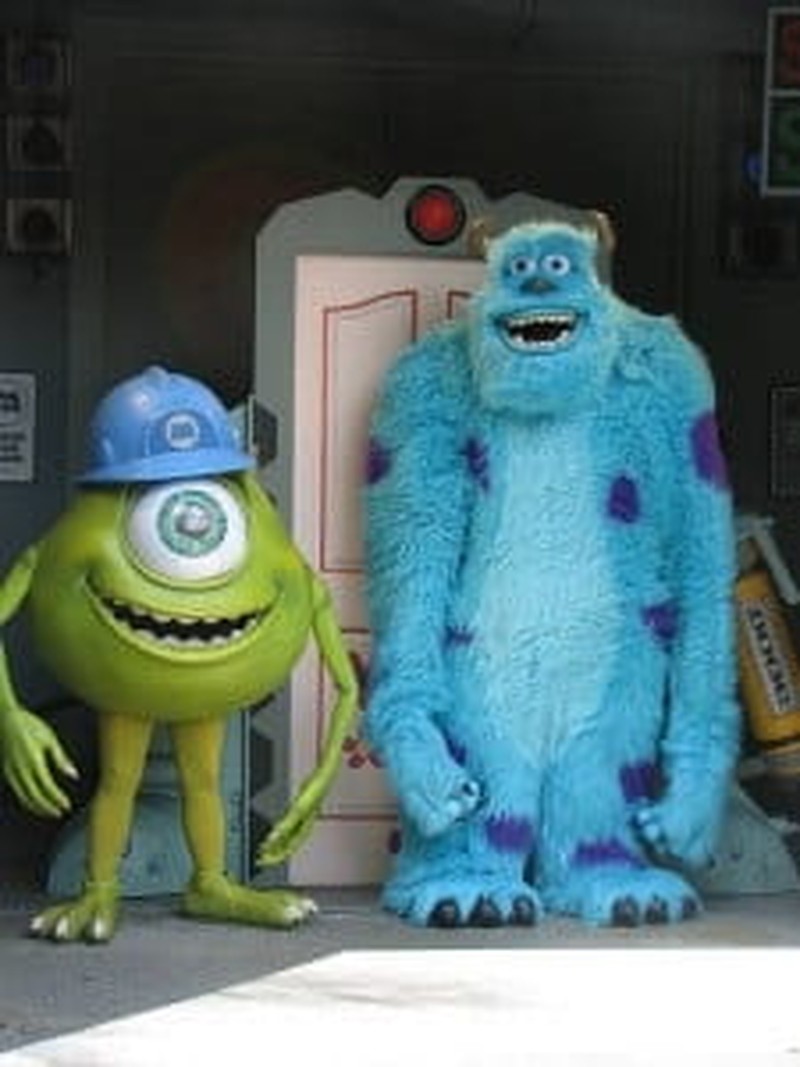 All kids love movies, especially if it's animated.  We have compiled a list of 20 of the best animated films that got a PG rating.  If some of your favorites aren't on here, that probably means it was rated G.  There are several franchises amidst this list so they are only listed once on the countdown represented by the original movie of the series.  Let us at F&E know if there are any movies you would have liked to have seen make it in the top 20.
20. Hoodwinked (2005)
Stars-Anne Hathaway, Glenn Close, Patrick Warburton, Xzibit, Andy Dick
A great modern spin on a classic tale.  There is a "Goody Bandit" robbing the goody recipes from all the stores.  A lot of animals have lost their business, and as the police investigate there is a mess at Granny's house.
19. Bee Movie (2007)
Stars- Jerry Seinfeld, Renee Zellweger, Matthew Broderick, Patrick Warburton, John Goodman, Chris Rock, Kathy Bates, Larry King, Ray Liotta, Oprah Winfrey
Barry (Seinfeld) has just graduated from college, while searching through existentialism outside of the hive Barry has his life saved by a florist named Vanessa.  He goes on to make the discovery that humans consume honey, therefore he decides to sue.
18. Monsters V. Aliens (2008)
Stars- Reese Witherspoon, Rainn Wilson, Stephen Colbert, Seth Rogen, Hugh Laurie, Will Arnett, Keifer Sutherland, Paul Rudd, Jeffrey Tambor, Amy Poehler, Ed Helms, Renee Zellweger
There is an alien mastermind trying to take over the world.  A woman who gets struck by a meteorite and turns into a giant is put on  a team of monsters assigned to defeat the aliens.
17. Shrek (2001)
Franchise Movies:  Shrek 2, Shrek the Third, Shrek Forever After
Stars- Mike Myers, Cameron Diaz, John Lithgow, Eddie Murphy
Trying to save his land an ogre named Shrek joins an annoying donkey on a mission to bring a princess to a scheming lord.
16. Surf's Up (2009)
Stars- Shia Labeouf, Zoey Deschanel, Jeff Bridges, Jon Heder, James Woods
Cody Maverick is a rising surf star, and this is a behind the scenes look into the Penguin World Surfing Championship.
15. Bolt (2010)
Stars- John Travolta, Miley Cyrus, Susie Essman,
A canine stars in a sci/fi show where he has special powers.  He believes his powers are real and he embarks on a journey because he believes he needs to save his co-star.
14. Ice Age (2002)
Franchise Movies:  Ice Age 2 The Meltdown, Ice Age 3 Dawn of the Dinosaurs, Ice Age 4 Continental Drift
Stars- Ray Ramono, John Leguizamo, Denis Leary, Jack Black, Cedric the Entertainer
A very successful franchise here, 4 major releases since 2002.  This is a story where a tiger, a mammoth, and a sloth find an infant and attempt to return him home.
13. Happy Feet (2006)
Franchise Movies: Happy Feet Two
Stars- Robin Williams, Elijah Wood, Brittany Murphy, Hugh Jackman, Nicole Kidman
A movie about the Emperor Penguins who find soulmates through songs.  When a penguin is born who can't sing, everyone discovers his tap dancing talents.
12. Kung Fu Panda (2008)
Franchise Movies: Kung Fu Panda 2
Stars- Jack Black, Angelina Jolie, Dustin Hoffman, Ian McShane, Jackie Chan, Seth Rogen, Lucy Lui, David Cross, Michael Clarke Duncan
Despite being overweight and inexperienced Po the Panda has been chosen to be a Dragon Warrior.
11. Megamind (2010)
Stars- Will Ferrell, Jonah Hill, Brad Pitt, Tina Fey, David Cross, Ben Stiller
Megamind is a supervillian who has achieved his ultimate goal by defeating his arch nemesis, Metro Man.  Now without any heroes to oppose him, Megamind is forced to soul search.
10. Madagascar (2005)
Franchise Movies:  Madagascar 2:Escape 2 Africa, Madagascar 3:  Europe's Most Wanted
Stars- Ben Stiller, Chris Rock, Jada Pinket-Smith, David Schwimmer, Sasha Baron Cohen, Cedric the Entertainer, Andy Richter
When Alex the Lion can no longer stay caged, he breaks free in search of seeing what life in the wild is like.  One thing leads to another and then wind up in Madagascar where they will learn the hard way just how good life was in New York.
9. Monster's Inc. (2001)
Stars- John Goodman, Billy Crystal, Mary Gibs, Steve Buscemi, Jennifer Tilly
The Monster city is run by power generated from scaring children.  Sully is one of the top scarers but when a child gets in to monstropolis trouble ensues for Mike and Sully.
8. Brave (2012)
Stars- Kelly Macdonald, Billy Connolly, Emma Thompson
Princess Merida is focused on carving her life path, but when she defies a custom chaos is brought to her kingdom.  She must rely on bravery and archery to reverse this grisly curse.
7. Open Season (2006)
Franchise Movies:  Open Season 2, Open Season 3, Open Season 4
Stars- Ashton Kutcher, Martin Lawrence, Debra Messing, Gary Sinise, Patrick Warburton
900 lbs. bear Boog finds himself in the  woods just a few days from open season.  He forms an odd relationship with a fast talking Mule Deer named Elliot.
6. Despicable Me (2010)
Stars- Steve Carell, Jason Segel, Russell Brand, Julie Andrews, Will Arnett, Kristen Wiig
A villain decides to use a trio of orphan girls in a grand scheme.  However their love starts have lasting effects and begins to change him.
5. How To Train Your Dragon (2010)
Stars- Gerard Butler, America Ferrera, Craig Ferguson, Jonah Hill, Kristen Wiig
A young Viking who hopes to someday hunt dragons when he grows up.  Incidentally  strikes up a friendship with a young dragon, and realizes there is more than meets the eye with these creatures.
4. Polar Express (2004)
Stars- Tom Hanks, Chris Coppola, Leslie Zemeckis,
A very fortunate boy catches a ride on a train headed to the North Pole on Christmas Eve.
3. The Lorax (2012)
Stars- Danny DeVito, Ed Helms, Taylor Swift, Zac Efron, Betty White, Rob Riggle
Such an enjoyable story with a message about being "Green" and a handful of lessons on life.  A 12 year old boy who is trying to win the affections of his dream girl sets out on an adventure which leads to the story of the Lorax.  Who is a grumpy old creature bent on protecting his land.
2.  Hotel Transylvania (2012)
Stars- Adam Sandler, Andy Samberg, Kevin James, Selena Gomez, Fran Drescher, Steve Buscemi, Molly Shannon, David Spade
Dracula runs an expensive resort away from the human world.  He loses his cool when an uninvited human finds the hotel. Especially when his daughter takes an interest in him.
1. Rio (2011)
Stars- Jesse Eisenberg, Anne Hathaway, George Lopez, Leslie Mann, Wanda Sykes, Jaimie Foxx, Will I Am, Tracy Morgan, Jake T. Austin
Blu, a demosticated macaw from Minnesota meets Jewel his dream bird.  He then sets off on a wild adventure to Rio De Janeiro.
Conclusion
These are all great and enjoyable movies to watch with your kids.  Bear in mind they are all rated PG so you will need to exercise guidance in some instances.  Hope you enjoyed the list and found it helpful.  God Bless, Jesus is King!
Resources-  The Holy Bible, English Standard Version"Scripture quotations are from The Holy Bible, English Standard Version® (ESV®), copyright © 2001 by Crossway, a publishing ministry of Good News Publishers. Used by permission. All rights reserved.",photo credit: PrincessAshley via photopin cc