'The Other Side' - Colton Dixon Song For Lost Loved Ones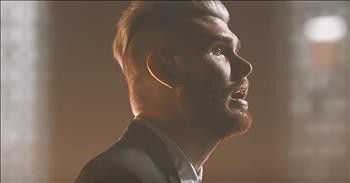 Christian artist Colton Dixon shares a powerful message for our loved ones in Heaven with 'The Other Side.' It's never easy to lose a loved one. Even though we know they are in a better place, it's still difficult to deal with such a big hole in our heart.

"It isn't easy to say goodbye
But I know it's only for a little while
Run up ahead and I will catch up
'Cause I'm gonna see you when tomorrow comes
On the other side
On the other side"
Talented musician Colton Dixon puts these emotions into song with his single 'The Other Side.' This special song reminds us that we will see our loved ones again. One day, we will all be reunited together in Heaven and what a glorious day that will be, indeed. There will be no more suffering or pain. We will live out our eternal life with our Father and Creator.
This emotional song truly resonates with so many around the world and it definitely touched a special place in my heart. Though we may feel an emptiness today, it's so important to remember that God has a perfect plan for our lives. Keep the love in your heart and beautiful memories close by. One day, on the other side, there will be no more goodbyes. Who else needs a tissue?
Revelation 21:4 "He will wipe away every tear from their eyes, and death shall be no more, neither shall there be mourning, nor crying, nor pain anymore, for the former things have passed away."
Embed

colton-dixon

212427 views

2017-09-15T17:25:00

Christian artist Colton Dixon shares a powerful message for our loved ones in Heaven with 'The Other Side.' It's never easy to lose a loved one. Even though we know they are in a better place, it's still difficult to deal with such a big hole in our heart.

"It isn't easy to say goodbye
But I know it's only for a little while
Run up ahead and I will catch up
'Cause I'm gonna see you when tomorrow comes
On the other side
On the other side"

Talented musician Colton Dixon puts these emotions into song with his single 'The Other Side.' This special song reminds us that we will see our loved ones again. One day, we will all be reunited together in Heaven and what a glorious day that will be, indeed. There will be no more suffering or pain. We will live out our eternal life with our Father and Creator.

This emotional song truly resonates with so many around the world and it definitely touched a special place in my heart. Though we may feel an emptiness today, it's so important to remember that God has a perfect plan for our lives. Keep the love in your heart and beautiful memories close by. One day, on the other side, there will be no more goodbyes. Who else needs a tissue?

Revelation 21:4 "He will wipe away every tear from their eyes, and death shall be no more, neither shall there be mourning, nor crying, nor pain anymore, for the former things have passed away."
Today's Devotional
A Prayer to Stop the Rush and Let Go of the Stress This Christmas - Your Daily Prayer - December 8
Top Artists