Grandma Uses Cardinal To Send Message From Heaven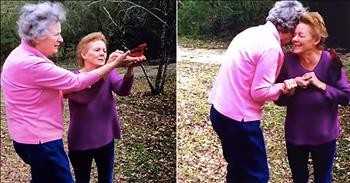 This loving Grandma sent a message from Heaven to her grieving family and now the video has gone viral. Angela Abbott Patteson recently shared a special moment on Facebook that has the whole world talking.

A few weeks ago, her husband's grandmother passed away at the age of 97. Before her death, the family has talked numerous times about her sending a sign to them once she was in Heaven. They also specifically asked for the message to involve a cardinal.
Well, Grandma Dorothy Booth held up her promise just one day after the memorial service. Angela explains the moment on her Facebook page by saying, "They heard something at the kitchen window and my father-in-law Brian went out to check. A cardinal was there and he was able to bring it inside. For 10 min they held and pet it, then they decided to go outside to release it."
The touching video showcases the moment that the family walks outside to release the bird. It's truly a miraculous moment and you can feel God all around this grieving family.
John 14:1-3 "1 "Do not let your hearts be troubled. You believe in God; believe also in me. 2 My Father's house has many rooms; if that were not so, would I have told you that I am going there to prepare a place for you? 3 And if I go and prepare a place for you, I will come back and take you to be with me that you also may be where I am."
godtube-inspiration

10027 views

2019-02-06T14:40:00

source: fitmamathrive This loving Grandma sent a message from Heaven to her grieving family and now the video has gone viral. Angela Abbott Patteson recently shared a special moment on Facebook that has the whole world talking.

A few weeks ago, her husband's grandmother passed away at the age of 97. Before her death, the family has talked numerous times about her sending a sign to them once she was in Heaven. They also specifically asked for the message to involve a cardinal.

Well, Grandma Dorothy Booth held up her promise just one day after the memorial service. Angela explains the moment on her Facebook page by saying, "They heard something at the kitchen window and my father-in-law Brian went out to check. A cardinal was there and he was able to bring it inside. For 10 min they held and pet it, then they decided to go outside to release it."

The touching video showcases the moment that the family walks outside to release the bird. It's truly a miraculous moment and you can feel God all around this grieving family.

John 14:1-3 "1 "Do not let your hearts be troubled. You believe in God; believe also in me. 2 My Father's house has many rooms; if that were not so, would I have told you that I am going there to prepare a place for you? 3 And if I go and prepare a place for you, I will come back and take you to be with me that you also may be where I am."
Today's Devotional
A Prayer to Stop the Rush and Let Go of the Stress This Christmas - Your Daily Prayer - December 8
Top Artists