'Still God' Anna Golden Acoustic Performance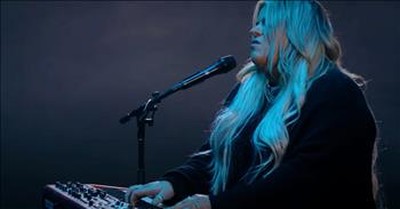 Up and coming gospel artist Anna Golden leads us in worship with her inspiring song, 'Still God.' Even in the midst of hardship, God is still there for us each step of the way and these words are the perfect reminder that He is around every corner.

"You're still God in the waiting
You're still God in a storm
You're still God in the silence
You're still God when it's hard"
Worship leader Anna Golden is no stranger to the stage. She comes from a family of talented artists, but she chose to use her gifts to glorify the Lord. Today, she is belting out the powerful words to 'Still God' and it's a truly incredible performance.
After this acoustic rendition, Anna also shares the story behind the song and how to play the chords on your own, at home.
"You are Alpha, Omega, Beginning, and End
Savior, Messiah, Rose of Sharon
You are Healer, Redeemer, my closest friend
You're still God, when I don't understand"
We all walk through difficult times in our live. There may be times of sadness or confusion and times of love and joy. No matter what, our God is always with us. He waits and welcomes us into His Home and that is such a beautiful reason to lift His Name in praise.
Revelation 21:6 "And he said to me, "It is done! I am the Alpha and the Omega, the beginning and the end. To the thirsty I will give from the spring of the water of life without payment."
GodTube-Music

1895 views

2021-10-04T15:20:48

source: Worship Together Up and coming gospel artist Anna Golden leads us in worship with her inspiring song, 'Still God.' Even in the midst of hardship, God is still there for us each step of the way and these words are the perfect reminder that He is around every corner.

"You're still God in the waiting
You're still God in a storm
You're still God in the silence
You're still God when it's hard"

Worship leader Anna Golden is no stranger to the stage. She comes from a family of talented artists, but she chose to use her gifts to glorify the Lord. Today, she is belting out the powerful words to 'Still God' and it's a truly incredible performance.

After this acoustic rendition, Anna also shares the story behind the song and how to play the chords on your own, at home.

"You are Alpha, Omega, Beginning, and End
Savior, Messiah, Rose of Sharon
You are Healer, Redeemer, my closest friend
You're still God, when I don't understand"

We all walk through difficult times in our live. There may be times of sadness or confusion and times of love and joy. No matter what, our God is always with us. He waits and welcomes us into His Home and that is such a beautiful reason to lift His Name in praise.

Revelation 21:6 "And he said to me, "It is done! I am the Alpha and the Omega, the beginning and the end. To the thirsty I will give from the spring of the water of life without payment."

Today's Devotional
A Prayer to Remember That Joy Is a Way of Life - Your Daily Prayer - May 21
The Bible commands us, "be joyful aways!"
Top Artists
Top Music Videos