'Never Lost' Elevation Worship Featuring Tauren Wells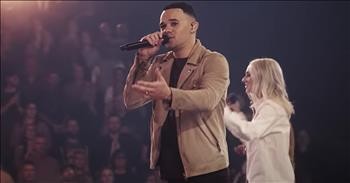 Elevation Worship and Tauren Wells lead us in worship with a powerful performance of 'Never Lost.'

In these uncertain times, it is so important to lean on God and trust Him with all our hearts. When we let God lead the way, there is truly no obstacle too big for us to overcome.
"You can do all things
You can do all things but fail
'Cause You've never lost a battle
No, You've never lost a battle
And I know, I know
You never will"
Elevation Worship formed in 2007 at Elevation Church in Charlotte, North Carolina. Similar to other Christian bands like Hillsong UNITED, Elevation Worship started as the Sunday band and gradually transitioned to a worldwide audience.
Today, they are teaming up with fellow Christian artist Tauren Wells for an incredible performance of 'Never Lost.' Tauren rose to fame as a member of the Christian band, Royal Tailor.
In 2015, he started out on a solo career and, since that time, he has continued to climb the music charts with hits such as 'Hills And Valleys' and 'When We Pray.'
Now, these amazing voices combine to give beautiful praise to our King with the comforting words of 'Never Lost.'
"Everything's possible
By the power of the Holy Ghost
A new wind is blowing right now
Breaking my heart of stone
Taking over like it's Jericho
And my walls are all crashing down"
Jeremiah 29:13 "You will seek me and find me, when you seek me with all your heart."
elevation-worship

625 views

2020-05-18T18:15:31

source: Elevation Worship Elevation Worship and Tauren Wells lead us in worship with a powerful performance of 'Never Lost.'

In these uncertain times, it is so important to lean on God and trust Him with all our hearts. When we let God lead the way, there is truly no obstacle too big for us to overcome.

"You can do all things
You can do all things but fail
'Cause You've never lost a battle
No, You've never lost a battle
And I know, I know
You never will"

Elevation Worship formed in 2007 at Elevation Church in Charlotte, North Carolina. Similar to other Christian bands like Hillsong UNITED, Elevation Worship started as the Sunday band and gradually transitioned to a worldwide audience.

Today, they are teaming up with fellow Christian artist Tauren Wells for an incredible performance of 'Never Lost.' Tauren rose to fame as a member of the Christian band, Royal Tailor.

In 2015, he started out on a solo career and, since that time, he has continued to climb the music charts with hits such as 'Hills And Valleys' and 'When We Pray.'

Now, these amazing voices combine to give beautiful praise to our King with the comforting words of 'Never Lost.'

"Everything's possible
By the power of the Holy Ghost
A new wind is blowing right now
Breaking my heart of stone
Taking over like it's Jericho
And my walls are all crashing down"

Jeremiah 29:13 "You will seek me and find me, when you seek me with all your heart."

Today's Devotional
A Prayer of Praise for Worn Out Bibles - Your Daily Prayer - September 19I live in this book, with this book, and by this book. Like our verse in Hebrews says, God's word to me is "alive and active."
Top Artists