3-Year-Old's Sweet Easter Rendition Of 'Gethsemane'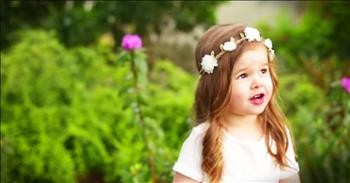 3-year-old Claire Ryann stole our hearts singing a precious duet of ('Part Of Your World'with her dad. Now, this sweet little toddler is celebrating the resurrection of Jesus Christ in the most amazing way.

Just listen as she sweetly sings 'Gethsemane' for Easter. God made the ultimate sacrifice for us when He sent His only Son to Earth to die for our sins. Because of this gift, we are now forgiven and free to live out our days in Heaven above. And the purity of hearing little Claire worship will all her heart is beyond beautiful.
There's no doubt that this sweet tot has a heart of the Lord and it's absolutely amazing to hear her using her talents to give praise to His name. I always love hearing the younger generation lift up our Lord and this Easter song is just what my heart needed to hear today
kidsarecute

49369 views

2016-03-22T14:26:00

source: Claire Ryann 3-year-old Claire Ryann stole our hearts singing a precious duet of ('Part Of Your World'with her dad. Now, this sweet little toddler is celebrating the resurrection of Jesus Christ in the most amazing way.

Just listen as she sweetly sings 'Gethsemane' for Easter. God made the ultimate sacrifice for us when He sent His only Son to Earth to die for our sins. Because of this gift, we are now forgiven and free to live out our days in Heaven above. And the purity of hearing little Claire worship will all her heart is beyond beautiful.

There's no doubt that this sweet tot has a heart of the Lord and it's absolutely amazing to hear her using her talents to give praise to His name. I always love hearing the younger generation lift up our Lord and this Easter song is just what my heart needed to hear today
Suggested For You
---
Related Videos
---
Today's Devotional
A Prayer to Overcome Panic Attacks - Your Daily Prayer - February 21, 2019
Top Artists