'Sparrows' Cory Asbury Acoustic Performance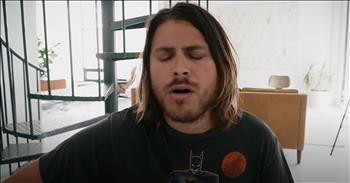 Contemporary Christian artist Cory Asbury performs a stunning acoustic rendition of 'Sparrows.'

This inspiring song will remind you that God always takes care of us and He walks with us each step of the way.
"You take good care of me
You know what I need before I even ask a thing
And You hold me in Your hands
With a kindness that never ends
I'm carried in Your love no matter what the future brings"
Cory Asbury burst onto the Christian music scene in 2018 with the number one hit, 'Reckless Love.' But as he shot to fame, he felt a calling from God to take a step back.
After taking a year off from music to reflect and spend time with family, Cory is back to lead us in all in beautiful worship. On the heels of his latest album, Cory is performing an acoustic rendition of 'Sparrows' from his home.
Just listen as he belts out these words of praise for our King.
"I know there must be more
But I can't get past Your kindness
I know there's got to be more
But I can't get past Your goodness"
We are so blessed to be loved by a gracious and caring Father in Heaven. And the words of 'Sparrows' are the perfect way to lift up His Name for the entire world to hear.
Genesis 28:15 "Behold, I am with you and will keep you wherever you go, and will bring you back to this land. For I will not leave you until I have done what I have promised you."
cory-asbury

1787 views

2020-07-17T17:07:23

source: Cory Asbury Contemporary Christian artist Cory Asbury performs a stunning acoustic rendition of 'Sparrows.'

This inspiring song will remind you that God always takes care of us and He walks with us each step of the way.

"You take good care of me
You know what I need before I even ask a thing
And You hold me in Your hands
With a kindness that never ends
I'm carried in Your love no matter what the future brings"

Cory Asbury burst onto the Christian music scene in 2018 with the number one hit, 'Reckless Love.' But as he shot to fame, he felt a calling from God to take a step back.

After taking a year off from music to reflect and spend time with family, Cory is back to lead us in all in beautiful worship. On the heels of his latest album, Cory is performing an acoustic rendition of 'Sparrows' from his home.

Just listen as he belts out these words of praise for our King.

"I know there must be more
But I can't get past Your kindness
I know there's got to be more
But I can't get past Your goodness"

We are so blessed to be loved by a gracious and caring Father in Heaven. And the words of 'Sparrows' are the perfect way to lift up His Name for the entire world to hear.

Genesis 28:15 "Behold, I am with you and will keep you wherever you go, and will bring you back to this land. For I will not leave you until I have done what I have promised you."

Today's Devotional
A Prayer of Praise for Worn Out Bibles - Your Daily Prayer - September 19I live in this book, with this book, and by this book. Like our verse in Hebrews says, God's word to me is "alive and active."
Top Artists