'In The Bleak Midwinter' For King And Country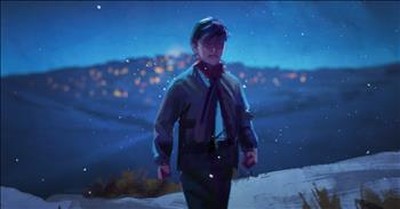 Start the Christmas season with this beautiful performance of 'In The Bleak Midwinter' from for KING & COUNTRY.

This Christmas tune was originally written as a poem called 'A Christmas Carol' by Christina Rossetti. It was first published in 1872. Decades later, Gustav Holst composed music for the words and this stunning melody was born.
"In the bleak mid-winter frosty wind made moan,
Earth stood hard as iron, water like a stone;
Snow had fallen, snow on snow,
Snow on snow, in the bleak mid-winter
Long ago"
Brothers Luke and Joel Smallbone make up the popular Christian duo for KING & COUNTRY. They are known for hits such as 'Joy' and 'Priceless.' This year, they are helping us get in the Christmas spirit with their holiday album, A Drummer Boy Christmas. And the powerful tune, 'In The Bleak Midwinter,' is a featured single.
Just listen as these talented brothers belt out these lyrics of hope.
"What can I give him? Poor as I am
If I were a shepherd I would give a lamb
If I were a wise man I would do my part"
In times of uncertainty, we can rest our worries in the arms of the Lord. No matter where we may find ourselves, know that you can trust in God with all your heart and He will provide you with love and peace.
Romans 15:13 "May the God of hope fill you with all joy and peace in believing, so that by the power of the Holy Spirit you may abound in hope."
for-king-and-country

858 views

2020-11-10T15:21:24

source: For King And Country Start the Christmas season with this beautiful performance of 'In The Bleak Midwinter' from for KING & COUNTRY.

This Christmas tune was originally written as a poem called 'A Christmas Carol' by Christina Rossetti. It was first published in 1872. Decades later, Gustav Holst composed music for the words and this stunning melody was born.

"In the bleak mid-winter frosty wind made moan,
Earth stood hard as iron, water like a stone;
Snow had fallen, snow on snow,
Snow on snow, in the bleak mid-winter
Long ago"

Brothers Luke and Joel Smallbone make up the popular Christian duo for KING & COUNTRY. They are known for hits such as 'Joy' and 'Priceless.' This year, they are helping us get in the Christmas spirit with their holiday album, A Drummer Boy Christmas. And the powerful tune, 'In The Bleak Midwinter,' is a featured single.

Just listen as these talented brothers belt out these lyrics of hope.

"What can I give him? Poor as I am
If I were a shepherd I would give a lamb
If I were a wise man I would do my part"

In times of uncertainty, we can rest our worries in the arms of the Lord. No matter where we may find ourselves, know that you can trust in God with all your heart and He will provide you with love and peace.

Romans 15:13 "May the God of hope fill you with all joy and peace in believing, so that by the power of the Holy Spirit you may abound in hope."

Top Artists
Top Music Videos