'Whole Heart (Hold Me Now)' - Hillsong UNITED Acoustic Performance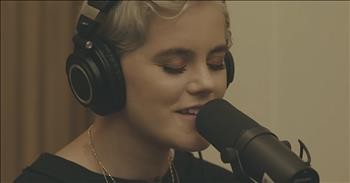 When you listen to the soothing, acoustic sound of Hillsong UNITED's new song, "Whole Heart (Hold Me Now)", you can't help but be overcome by the powerful lyrics, beautiful harmonies, and hopeful feeling that this song brings.

Hillsong UNITED, "the
No. 1 Christian artist
on all social media platforms with over 10 million fans combined", has done it again with an incredible worship song written by Joel Houston and Aodhan King. The song is about God's grace coming after us.
In the video of this recording, Joel says that when writing, "this particular song came as a feeling."
He goes on to say that the song was originally being written for another song that they have been working on, but the melody and lyrics ending up becoming its own thing. Although the song ended up becoming something separate from what they had originally intended, it was well worth the detour for them to create such a beautiful and uplifting piece of music.
The writers say that it took much trial and error for them to get the right lyrics. They wanted to make sure that their words matched the feeling that they were trying to convey for the song.
"We would think they felt right and then they wouldn't feel right," says Joel.
With them changing the lyrics right up until they recorded this video, they say that the song finally ended up landing in the right place and coming together.
Reflecting on the song, Joel talks about God's grace and how "the more you unpack it, the more you understand it, the longer you do this journey, the more you just come back to the simple beauty of the Gospel."
"The only reason we can let go is because He hold us. And He doesn't just hold us, He holds the very ground we stand on. Grace owns the ground, the grave, the depths, God holds all that so we can let go of everything and just trust Him."
hillsong-united

13486 views

2019-03-01T15:18:00

source: Worship Together When you listen to the soothing, acoustic sound of Hillsong UNITED's new song, "Whole Heart (Hold Me Now)", you can't help but be overcome by the powerful lyrics, beautiful harmonies, and hopeful feeling that this song brings.

Hillsong UNITED, "the No. 1 Christian artist
on all social media platforms with over 10 million fans combined", has done it again with an incredible worship song written by Joel Houston and Aodhan King. The song is about God's grace coming after us.

In the video of this recording, Joel says that when writing, "this particular song came as a feeling."

He goes on to say that the song was originally being written for another song that they have been working on, but the melody and lyrics ending up becoming its own thing. Although the song ended up becoming something separate from what they had originally intended, it was well worth the detour for them to create such a beautiful and uplifting piece of music.

The writers say that it took much trial and error for them to get the right lyrics. They wanted to make sure that their words matched the feeling that they were trying to convey for the song.

"We would think they felt right and then they wouldn't feel right," says Joel.

With them changing the lyrics right up until they recorded this video, they say that the song finally ended up landing in the right place and coming together.

Reflecting on the song, Joel talks about God's grace and how "the more you unpack it, the more you understand it, the longer you do this journey, the more you just come back to the simple beauty of the Gospel."

"The only reason we can let go is because He hold us. And He doesn't just hold us, He holds the very ground we stand on. Grace owns the ground, the grave, the depths, God holds all that so we can let go of everything and just trust Him."
Today's Devotional
A Prayer for Awareness of Sin - Your Daily Prayer - October 21
Top Artists