Josh Turner - The River (Of Happiness) (Live From Gaither Studios)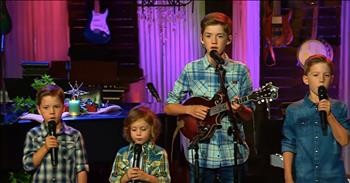 Country artist Josh Turner is grabbing a lot of attention after announcing his first gospel album "I Serve A Savior". Included in the album is a song written by his wife and oldest son, "The River (Of Happiness)"and performed by all four of Josh Turner's boys. With the release of his album is also a 90-minute LIVE recording session from the Gaither Studios.

Josh's sons, Hampton, Colby, Samuel, and Marion are featured on the album singing "The River (Of Happiness)". Seeing them sing live in the Gaither Studios recording is a true treat! These boys clearly have their parent's love of music and stunning good looks!
"There's a river way out yonder
Beyond the valley, across the plain
There's a river where I'm goin'
When my Savior calls my name"
With Mom, Jennifer Ford, on piano and Hampton on the mandolin, the boys sing this uplifting song about a place where we can find overwhelming joy and peace. What a beautiful picture of eternity with Christ! What wonderful reminder of what waits for us as believers "when my Savior calls my name".
"And we will sing sweet hallelujahs
Praises to our glorious King
Won't you come with us
To the river
The river of happiness
The river of happiness"
This album is so encouraging and we love hearing a new voice belting out gospel praises! We're excited to see Josh Turner sharing his faith through his music and overjoyed to see his children getting involved in such a moving album as well!
"My faith is the most important thing to me," Turner adds. "I want people to hear the sentiment and heart behind this record. I want them to feel the same inspiration that I felt. I want them to feel that and hopefully they'll make these songs a part of their life."
josh-turner

147145 views

2018-10-31T10:47:00

source: GaitherVEVO Country artist Josh Turner is grabbing a lot of attention after announcing his first gospel album "I Serve A Savior". Included in the album is a song written by his wife and oldest son, "The River (Of Happiness)"and performed by all four of Josh Turner's boys. With the release of his album is also a 90-minute LIVE recording session from the Gaither Studios.

Josh's sons, Hampton, Colby, Samuel, and Marion are featured on the album singing "The River (Of Happiness)". Seeing them sing live in the Gaither Studios recording is a true treat! These boys clearly have their parent's love of music and stunning good looks!

"There's a river way out yonder
Beyond the valley, across the plain
There's a river where I'm goin'
When my Savior calls my name"

With Mom, Jennifer Ford, on piano and Hampton on the mandolin, the boys sing this uplifting song about a place where we can find overwhelming joy and peace. What a beautiful picture of eternity with Christ! What wonderful reminder of what waits for us as believers "when my Savior calls my name".

"And we will sing sweet hallelujahs
Praises to our glorious King
Won't you come with us
To the river
The river of happiness
The river of happiness"

This album is so encouraging and we love hearing a new voice belting out gospel praises! We're excited to see Josh Turner sharing his faith through his music and overjoyed to see his children getting involved in such a moving album as well!

"My faith is the most important thing to me," Turner adds. "I want people to hear the sentiment and heart behind this record. I want them to feel the same inspiration that I felt. I want them to feel that and hopefully they'll make these songs a part of their life."
Today's Devotional
A Prayer for Strength to Endure - Your Daily Prayer - May 29
Top Artists