The Hound + The Fox Sing Acoustic 'Winter Song'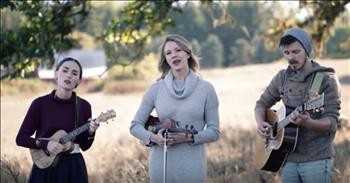 Husband and wife team, The Hound and The Fox, perform this stunning acoustic of the "Winter Song" featuring talented musician Jenika Marion. Based in Oregon, Reilly and McKenzie Zamber love to use their talents to write their own music as well as cover personal favorites.

Opening with Jenika singing the first verse with her crystal vocals and then into tight harmony with McKenzie, we already love this cover of the "Winter Song"! The folk-styling of this song is a beautiful mix with these talented artists vocals and instrumental abilities. As Reilly joins the women singing, their harmonies are delightfully rounded out.
"My voice; a beacon in the night.
My words will be your light,
To carry you to me.
Is love alive?
Is love alive?
Is love
They say that things just cannot grow
Beneath the winter snow,
Or so I have been told."
"Winter Song" was written by artists Sara Bareilles and Ingrid Michaelson. The song reminds us of the slumber of winter and promise of spring. It's a simple tale of love and wanting your special someone to find their way home to welcoming arms. While not exactly a holiday tune, with mentions of December in the later verses it is eerily reminiscent to how we feel this time of year. It can be a little dark and gloomy, even lonely, but there is an excitement in the air thinking of the new life that is about to start in the future!
"I still believe in summer days.
The seasons always change
And life will find a way."
There is a time for everything, and a season for every activity under the heavens. -Ecclesiastes 3:1
djbeats

2288 views

2018-11-21T09:54:01

source: The Hound + The Fox Husband and wife team, The Hound and The Fox, perform this stunning acoustic of the "Winter Song" featuring talented musician Jenika Marion. Based in Oregon, Reilly and McKenzie Zamber love to use their talents to write their own music as well as cover personal favorites.

Opening with Jenika singing the first verse with her crystal vocals and then into tight harmony with McKenzie, we already love this cover of the "Winter Song"! The folk-styling of this song is a beautiful mix with these talented artists vocals and instrumental abilities. As Reilly joins the women singing, their harmonies are delightfully rounded out.

"My voice; a beacon in the night.
My words will be your light,
To carry you to me.
Is love alive?
Is love alive?
Is love
They say that things just cannot grow
Beneath the winter snow,
Or so I have been told."

"Winter Song" was written by artists Sara Bareilles and Ingrid Michaelson. The song reminds us of the slumber of winter and promise of spring. It's a simple tale of love and wanting your special someone to find their way home to welcoming arms. While not exactly a holiday tune, with mentions of December in the later verses it is eerily reminiscent to how we feel this time of year. It can be a little dark and gloomy, even lonely, but there is an excitement in the air thinking of the new life that is about to start in the future!

"I still believe in summer days.
The seasons always change
And life will find a way."

There is a time for everything, and a season for every activity under the heavens. -Ecclesiastes 3:1
Today's Devotional
A Prayer from Psalm 91 - Your Daily Prayer - January 26
Top Artists