American Idol's Maddie Poppe And Caleb Lee Hutchinson 'You've Got A Friend'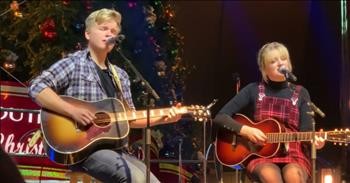 Performing "You've Got A Friend", Maddie Poppe and Caleb Lee Hutchinson blend their vocal strengths beautifully in this Carole King folk classic. The pair met while competing on American Idol, Maddie winning the competition and Caleb coming in as the runner up.

After meeting on the television show, it was clear that the talented Maddie (20) and Caleb (19) were fast friends. Their vocal style lends perfectly to duets and there is a clear charisma between them. Caleb starts out the famous tune with his deep drawl. His voice lends perfectly to this acoustic song. With a little smile and glance towards to Maddie we can't get enough of these two.
"When you're down and troubled / And you need some love and care / And nothing, nothing is going right / Close your eyes and think of me / And soon I will be there / To brighten up even your darkest night"
Maddie joins Caleb as he begins the familiar chorus.
"You just call out my name
And you know wherever I am
I'll come running, to see you again
]Winter, spring, summer or fall
All you have to do is call
And I'll be there
You've got a friend"
Filling in the interlude, Maddie and Caleb joke with each other before Maddie tackles the next verse. Seeing these two friends performing this supportive ballad is great for a huge smile! We can't wait to see more from the pair and hopefully an album!
As they finish their performance, Caleb ad-libs the lyrics: "All you gotta do is call, and I'll be there, I sure will, Maddie...You've got a friend!" and Maddie responds with her own "and I'll be there, yes I will, Caleb, you've got such an awesome, perfect [girl] friend!"
djbeats

25014 views

2018-11-16T16:33:36

source: SnapCracklyPop Performing "You've Got A Friend", Maddie Poppe and Caleb Lee Hutchinson blend their vocal strengths beautifully in this Carole King folk classic. The pair met while competing on American Idol, Maddie winning the competition and Caleb coming in as the runner up.

After meeting on the television show, it was clear that the talented Maddie (20) and Caleb (19) were fast friends. Their vocal style lends perfectly to duets and there is a clear charisma between them. Caleb starts out the famous tune with his deep drawl. His voice lends perfectly to this acoustic song. With a little smile and glance towards to Maddie we can't get enough of these two.

"When you're down and troubled / And you need some love and care / And nothing, nothing is going right / Close your eyes and think of me / And soon I will be there / To brighten up even your darkest night"

Maddie joins Caleb as he begins the familiar chorus.

"You just call out my name
And you know wherever I am
I'll come running, to see you again
]Winter, spring, summer or fall
All you have to do is call
And I'll be there
You've got a friend"

Filling in the interlude, Maddie and Caleb joke with each other before Maddie tackles the next verse. Seeing these two friends performing this supportive ballad is great for a huge smile! We can't wait to see more from the pair and hopefully an album!

As they finish their performance, Caleb ad-libs the lyrics: "All you gotta do is call, and I'll be there, I sure will, Maddie...You've got a friend!" and Maddie responds with her own "and I'll be there, yes I will, Caleb, you've got such an awesome, perfect [girl] friend!"
Today's Devotional
A Romans 8:28 Prayer - Your Daily Prayer - December 13
Top Artists