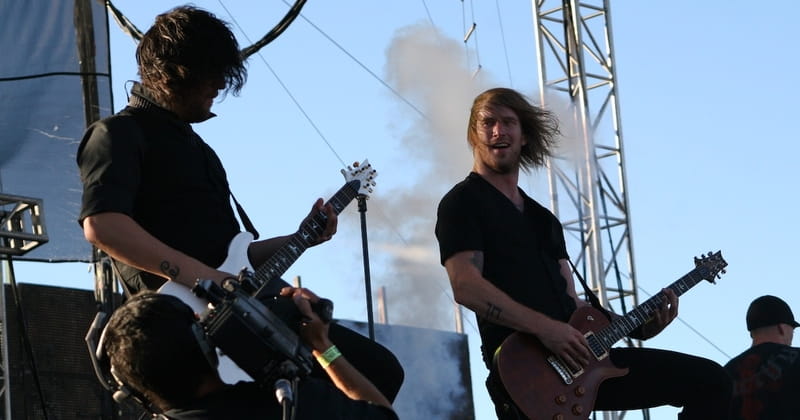 Kutless is a mainstream rock band played on Christian radio stations everywhere. Their mission is very evident in the lyrics that they write. They are on a mission to spread the love of Jesus to everyone. This band has made a huge impact for the kingdom. Here are my 10 favorite songs of theirs.
This song is off of their first album. It is the first song I heard by them and that is how I became a fan.
Favorite Lyric – "Can't you feel the sounds of Love flow through you? We're praising Him tonight."
"Serve the Lord with gladness! Come into his presence with singing"! (Psalm 100:2)
This is a great song that speaks to all of us about how Jesus truly loves each and every single one of us. None of us get lost in the crowd. Jesus knows everyone by name and He loves them just the same.
Favorite Lyric – "Your body's the bread; your blood is the wine, because you traded your life for mine."
This song deals with how we get hurt by others and how sometimes we have to say "goodbye" to them. It also deals with the struggle to be able to forgive them and even pray for them.
Favorite Lyric – "Forgiveness can't take scars away, but I forgive you anyway."
"Let all bitterness and wrath and anger and clamor and slander be put away from you, along with all malice. Be kind to one another, tenderhearted, forgiving one another, as God in Christ forgave you." (Ephesians 4:31-32)
This is an awesome song devoted to choosing to follow Christ and being willing to do His will
Favorite Lyric – "Cleanse all of my mind that is not of You. Break me, teaching me how to find rest in Your hands."
This is the first song off of their first album. It is a cry of desperation to Jesus that we all need His touch.
Favorite Lyric – "Not knowing why I ever retreated from Your arms. A mistake I made. Now oh Lord I feel Your warm embrace, contentment fills my soul as joy lights my face."
This is a great song dedicated to our GREAT GOD! He is our sustainer, healer, lover of our soul, comforter and every other good thing!
Favorite Lyric - In the middle of my darkness, in the midst of all my fear, You're my refuge and my hope. When the storm of life is raging, and the thunder's all I hear, You speak softly to my soul."
"The name of the Lord is a strong tower; the righteous man runs into it and is safe." (Proverbs 18: 10)
Kutless - Strong Tower (Official Music Video) from kutless on GodTube.
There are a lot of young children hurting these days with no one to even care about them or for them. That is what this song is about. It is about stopping this cycle of carelessness.
Favorite Lyric – "Can't you see we're crushing the hearts of the innocent? We're teaching them to fail, and how it breaks me to see how we're living and punishing the ones that need us to care. To see them hurting feels like knuckles to the back of my head."
"Whoever causes one of these little ones who believe in me to sin, it would be better for him if a great millstone were hung around his neck and he were thrown into the sea." (Mark 9:42)
This is Kutless's version of the popular worship song, "Better is one Day." This is my favorite version of this song, hands down.
Favorite Lyric – "My heart and flesh cry out to You the Living God. Your Spirit's water to my soul."
"For a day in your courts is better than a thousand elsewhere." (Psalm 84:10)
Every day we are on the front lines defending our faith and proclaiming the Good News of Jesus' death and resurrection for the atonement of humanity's sins. That is what this song is about. It is about not being ashamed to speak up when others don't even care.
Favorite Lyric – "I know my life and inside how I've changed, a testimony to the truth I speak. So I don't mind putting up with you, and all the things you say. I'm not about to stop or even change my ways."
This is such a beautiful song. It is about how faith makes all things possible. If you haven't heard this song, listen to it and you may see why I chose it for the number 1 spot.
Favorite Lyric – "I've seen miracles just happen, silent prayers get answered, broken hearts become brand new. That's what faith can do."
"If you have faith like a grain of mustard seed, you will say to this mountain, 'Move from here to there,' and it will move, and nothing will be impossible for you." (Matthew 17:20)
Kutless - What Faith Can Do (Official Music Video) from kutless on GodTube.
Kutless has written so many great songs. These are only 10 of their best ones. There are so many more that could have been chosen.
Thanks for reading! God bless you!
 
Photo credit: ©Flickr.com/CMCphotos
Scriptures: The Holy Bible, English Standard Version