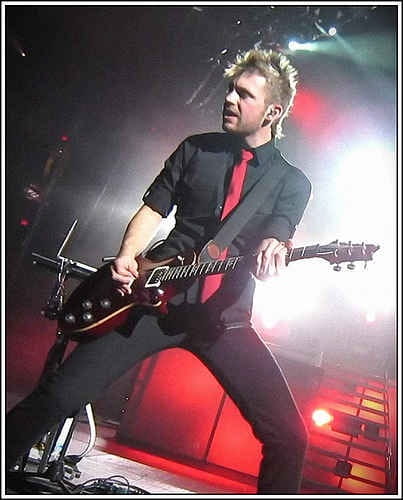 Skillet is one of the most unique and talented Christian bands today.  They incorporate rock music, with some heavy riffs and beautiful vocal harmonies to make great musical arrangements.  I have been a fan of this band for a long time and it was difficult to pick my favorite 10 songs of all time by them.  They have so many great songs to pick from.
10 -Under My Skin
This reflects on how we all feel Christ inside of us as believers.
Favorite Lyric – "Feel the fear dissipate when you are everything you are.  Feel my soul come awake; you carry me away."

Joshua 1:5b – "I will never leave you or forsake you."
9 -Believe
This is an open and honest song about how we all hurt one another sometimes, but how we also need to believe in one another and forgive each other.
Favorite Lyric – "You're all that I need.  Just tell me that you still believe."
8 – Awake and Alive
As we walk in the world, we need to be firm in our foundation with Christ as our Savior.  That is what this song is about.
Favorite Lyric – "I'll stand my ground and never back down.  I know what I believe inside; I'm awake and I'm alive."

2 Corinthians 1:24b – "We work with you for your joy, for you stand firm in your faith."
7 – The Older I Get
I love this band because they are real and they talk about real issues.  This song is all about regretting the mistakes that we make towards each other and not knowing if we will ever get over it.  This song is about someone who used to be a friend and is no longer because of the scars that have been made.
Favorite Lyric – "It's been way too long for the times we've missed.  I can't believe it still hurts like this."
6 – Forsaken
This is the first track off of the album "Collide."  It is about a man who has ignored his faith and how God is breaking him to come back.
Favorite Lyric – "I recall pledging my sole devotion to you.  It reminds me how now I'm on my knees."
5 – The Last Night
This song was written for a girl who was into cutting herself and had thoughts of suicide.  This song can be taken as a friend speaking to another friend, but I think it has a much deeper meaning when we think of it as Christ speaking to that girl.
Favorite Lyric – "This is the last night you'll spend alone.  I'll wrap you in my arms and I won't let go.  I'm everything you need me to be."
4 – Hero
We all have a hero in our Savior, Jesus Christ.  This song is about being a hero and believing in the One, true hero.
Favorite Lyric – "Who's gonna fight for the weak?  Who's gonna make'em believe.  I've got a hero living in me."

1 John 2:1b – "We have an advocate with the Father, Jesus Christ the righteous."
3 – Rebirthing
I love this song!  It portrays the scene of how an unbeliever finds Jesus and becomes alive.
Favorite Lyric – "I wanna live my life, wanna give you everything.  Breathe for the first time now.  I've come alive somehow."

Romans 4:17 – "…in the presence of the God in whom he believed, who gives life to the dead…"

Song With Lyrics
2 – Savior
This song is Jesus singing to us.  Jesus is always knocking at the door, waiting for all to accept Him.
Favorite Lyric – "There's nothing left to lose.  There's nothing left to prove.  Surrender your love; it's all you can do."

Luke 19:10 – "For the Son of Man came to seek and save the lost."
1 – Whispers in the Dark
This will probably be my favorite song by Skillet forever.  The music is heavy and melodic.  The lyrics are brilliant.  Sometimes God whispers to us and we can always be assured that He will always be there.
Favorite Lyric – "Despite the lies that you're making, your love is mine for the taking.  My love is just waiting to turn your tears to roses."

Revelation 21:4 – "He will wipe away every tear from their eyes, and death shall be no more, neither shall there be mourning, nor crying, nor pain anymore, for the former things have passed away."
Your Favorites?
These are my 10 favorite songs by Skillet.  Skillet is a great band and I admire what they are doing for the Kingdom.  I would love to hear what your favorite songs are.
God Bless You!
Resources:
The Holy Bible, English Standard Version (ESV)
Photo Credit: Flickr rbatina
www.Youtube.com