Let The Redeemed' Josh Baldwin Live Performance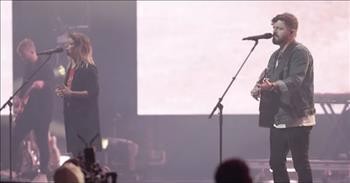 In this live performance, Josh Baldwin sings his latest single, 'Let the Redeemed'. Josh is a Christian singer, songwriter, and worship pastor. He is a member of the Bethel Music collective and serves as a worship leader at Bethel Church in Redding, California.

'Let the Redeemed' is a song that declares God as our Deliverer. He is the One that brings victory to our stories. He brings us out of our valleys and deserts.
"He led me out of the desert, brought me into his streams
A river of living water, turned my bitter into sweet
All my burdens are lifted, took the shackles off my feet
Now there's no sound louder than the captives set free
So let the redeemed of the Lord say so
Sing of his promises evermore
Pour out your thankfulness, let it overflow
Let the redeemed of the Lord say so"
These powerful lyrics are full of the hope that we have in our God. When Josh was writing this song, he
recounted
how "the most powerful sound on earth is the song of captives set free, and there is power in our testimony that releases hope to the world. Through his song 'Let the Redeemed,' Josh invites listeners to turn their story into a song of thankfulness, allowing the hope that lives inside of us to permeate the world."
We all have our stories. Ones full of brokenness and triumph, but all that bring God glory through it all. He is faithful and His mercies are new every morning, so we must share our victories with the world to shine His light. What a beautiful thing it is to sing about His promises and how He has set us free!
Psalm 107:2
"All of you set free by God, tell the world! Tell how he freed you from oppression."
bethel-music

879 views

2019-08-05T11:57:00

source: Bethel Music In this live performance, Josh Baldwin sings his latest single, 'Let the Redeemed'. Josh is a Christian singer, songwriter, and worship pastor. He is a member of the Bethel Music collective and serves as a worship leader at Bethel Church in Redding, California.

'Let the Redeemed' is a song that declares God as our Deliverer. He is the One that brings victory to our stories. He brings us out of our valleys and deserts.

"He led me out of the desert, brought me into his streams
A river of living water, turned my bitter into sweet
All my burdens are lifted, took the shackles off my feet
Now there's no sound louder than the captives set free

So let the redeemed of the Lord say so
Sing of his promises evermore
Pour out your thankfulness, let it overflow
Let the redeemed of the Lord say so"

These powerful lyrics are full of the hope that we have in our God. When Josh was writing this song, he recounted how "the most powerful sound on earth is the song of captives set free, and there is power in our testimony that releases hope to the world. Through his song 'Let the Redeemed,' Josh invites listeners to turn their story into a song of thankfulness, allowing the hope that lives inside of us to permeate the world."

We all have our stories. Ones full of brokenness and triumph, but all that bring God glory through it all. He is faithful and His mercies are new every morning, so we must share our victories with the world to shine His light. What a beautiful thing it is to sing about His promises and how He has set us free!

Psalm 107:2
"All of you set free by God, tell the world! Tell how he freed you from oppression."

Today's Devotional
A Prayer for Dishing Out Truth - Your Daily Prayer - February 18
Top Artists