'Only Jesus' Gaither Vocal Band Live Performance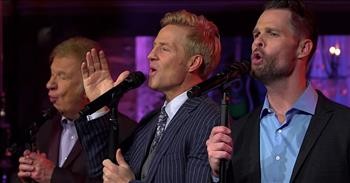 The talented men of the Gaither Vocal Band perform a live rendition of 'Only Jesus.'

These powerful words remind us that Jesus is our hope and the only source of salvation. When we put our trust in the Lord, we are opening us the door to better life in Heaven.
"So I'll worship only at the feet of Jesus,
His cup alone, my holy grail,
There'll be no other gods before Him,
Just Jesus only will never fail."
The Gaither Vocal Band is a popular all-male southern gospel ensemble. The name comes from the founder and leader, Bill Gaither.
Since 1981, this group has performed hundreds of our favorite hymns and beautiful original songs all over the world. Over the years, they have released 29 albums and there is no slowing down anytime soon.
Today, they are at Gaither Studios for a special live performance of 'Only Jesus.' Just listen as they belt out these words of praise.
"Just dessert dust and empty shadows,
All promises that turned to lies,
The gods offer fail and betray me,
You alone are truth and life."
There is hope and truth in the Lord. Through Him, we can find forgiveness and the path to Heaven. What a blessing to serve such a loving and forgiving Father.
Matthew 19:25-26 "25 When the disciples heard this, they were greatly astonished and asked, "Who then can be saved?" 26 Jesus looked at them and said,"With man this is impossible, but with God all things are possible.""
gaither-vocal-band

4825 views

2019-07-05T15:30:13

source: Gaither Vocal Band The talented men of the Gaither Vocal Band perform a live rendition of 'Only Jesus.'

These powerful words remind us that Jesus is our hope and the only source of salvation. When we put our trust in the Lord, we are opening us the door to better life in Heaven.

"So I'll worship only at the feet of Jesus,
His cup alone, my holy grail,
There'll be no other gods before Him,
Just Jesus only will never fail."

The Gaither Vocal Band is a popular all-male southern gospel ensemble. The name comes from the founder and leader, Bill Gaither.

Since 1981, this group has performed hundreds of our favorite hymns and beautiful original songs all over the world. Over the years, they have released 29 albums and there is no slowing down anytime soon.

Today, they are at Gaither Studios for a special live performance of 'Only Jesus.' Just listen as they belt out these words of praise.

"Just dessert dust and empty shadows,
All promises that turned to lies,
The gods offer fail and betray me,
You alone are truth and life."

There is hope and truth in the Lord. Through Him, we can find forgiveness and the path to Heaven. What a blessing to serve such a loving and forgiving Father.

Matthew 19:25-26 "25 When the disciples heard this, they were greatly astonished and asked, "Who then can be saved?" 26 Jesus looked at them and said,"With man this is impossible, but with God all things are possible.""

Today's Devotional
A Prayer for a Strong Marriage - Your Daily Prayer - August 9
Top Artists