'Rescue' Live Performance From Lauren Daigle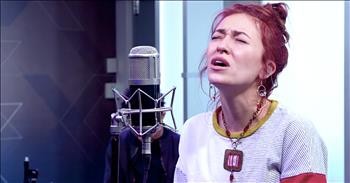 Grammy award-winning artist Lauren Daigle performs her single 'Rescue' live from the SiriusXM studios. This critically acclaimed singer and songwriter has earned praise in both the Christian and secular music scene. Her powerful lyrics reach out to millions of people all over the world.

"I will send out an army to find you
In the middle of the darkest night
It's true, I will rescue you
I will never stop marching to reach you
In the middle of the hardest fight
It's true, I will rescue you"
Today, Lauren is performing 'Rescue' from her latest album 'Look Up Child.' This special song is all about how we are not alone. It truly makes me think about our relationship with God and how He stands by our side each step of the way.
Lauren Daigle has truly made a name for herself as one of the most talented artists of the modern era. Now, her music is helping to spread God's message with a multitude of ears all across the globe. That is such an incredible gift and it's all to praise His name.
Isaiah 43:1-2 "But now, thus says the LORD, who created you, O Jacob, And He who formed you, O Israel: "Fear not, for I have redeemed you; I have called you by your name; You are Mine. 2 When you pass through the waters, I will be with you; And through the rivers, they shall not overflow you. When you walk through the fire, you shall not be burned, Nor shall the flame scorch you."
Lauren Daigle performs 'Rescue' live

Lauren Daigle gave us life with this uplifting live performance of "Rescue" at SiriusXM Studios. Listen to the full broadcast throughout the weekend on SiriusXM The Message.

Posted by SiriusXM on Friday, May 17, 2019
lauren-daigle

4076 views

2019-05-22T12:39:53

source: Lauren Daigle Grammy award-winning artist Lauren Daigle performs her single 'Rescue' live from the SiriusXM studios. This critically acclaimed singer and songwriter has earned praise in both the Christian and secular music scene. Her powerful lyrics reach out to millions of people all over the world.

"I will send out an army to find you
In the middle of the darkest night
It's true, I will rescue you
I will never stop marching to reach you
In the middle of the hardest fight
It's true, I will rescue you"

Today, Lauren is performing 'Rescue' from her latest album 'Look Up Child.' This special song is all about how we are not alone. It truly makes me think about our relationship with God and how He stands by our side each step of the way.

Lauren Daigle has truly made a name for herself as one of the most talented artists of the modern era. Now, her music is helping to spread God's message with a multitude of ears all across the globe. That is such an incredible gift and it's all to praise His name.

Isaiah 43:1-2 "But now, thus says the LORD, who created you, O Jacob, And He who formed you, O Israel: "Fear not, for I have redeemed you; I have called you by your name; You are Mine. 2 When you pass through the waters, I will be with you; And through the rivers, they shall not overflow you. When you walk through the fire, you shall not be burned, Nor shall the flame scorch you."

Today's Devotional
A Prayer for Intentional Marriage - Your Daily Prayer - October 14
Top Artists