Josh Turner Perfoms 'I Saw The Light' On The Today Show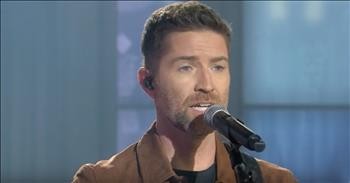 Country artist Josh Turner performs a live rendition of his gospel song 'I Saw The Light' on The Today Show.

In 2018, Josh released his very first gospel album titled 'I Serve A Savior.' Josh is an award-winning country singer and songwriter and now, he's returning to his Christian roots. Faith is a very important part of this talented artist and Josh feels blessed to be able to record and share these special songs.
Today, he's sharing God's message with a live performance on The Today Show. Just listen as he beautifully belts out the lyrics to 'I Saw The Light.'
'I saw the light, I saw the light
No more darkness, no more night
Now I'm so happy, no sorrow in sight
Praise the Lord, I saw the light'
These powerful lyrics remind us all that God is our strength and our guidance. Even when times seem to be dark, remember that the Lord will always be the light to see you through. What an incredible blessing to have the power of God with us each step of the way. These words are the perfect praise to His Holy Name.
'I was a fool to wander and stray
Straight is the gate and narrow's the way
Now I have traded the wrong for the right
Praise the Lord, I saw the light'
John 8:12 "When Jesus spoke again to the people, he said, "I am the light of the world. Whoever follows me will never walk in darkness, but will have the light of life."
godtube-inspiration

5079 views

2019-04-29T09:19:54

source: Josh Turner Country artist Josh Turner performs a live rendition of his gospel song 'I Saw The Light' on The Today Show.

In 2018, Josh released his very first gospel album titled 'I Serve A Savior.' Josh is an award-winning country singer and songwriter and now, he's returning to his Christian roots. Faith is a very important part of this talented artist and Josh feels blessed to be able to record and share these special songs.

Today, he's sharing God's message with a live performance on The Today Show. Just listen as he beautifully belts out the lyrics to 'I Saw The Light.'

'I saw the light, I saw the light
No more darkness, no more night
Now I'm so happy, no sorrow in sight
Praise the Lord, I saw the light'

These powerful lyrics remind us all that God is our strength and our guidance. Even when times seem to be dark, remember that the Lord will always be the light to see you through. What an incredible blessing to have the power of God with us each step of the way. These words are the perfect praise to His Holy Name.

'I was a fool to wander and stray
Straight is the gate and narrow's the way
Now I have traded the wrong for the right
Praise the Lord, I saw the light'

John 8:12 "When Jesus spoke again to the people, he said, "I am the light of the world. Whoever follows me will never walk in darkness, but will have the light of life."
Today's Devotional
A Prayer for God's Strength When You Feel Under Attack - Your Daily Prayer - May 24
Top Artists