'Be Still My Soul (In You I Rest)' Beautiful Hymn From Anna Richey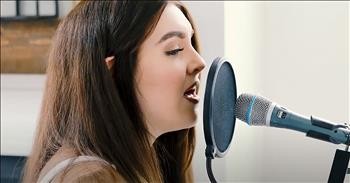 Talented vocalist Anna Richey leads us in praise with the beloved hymn 'Be Still My Soul (In You I Rest).'

This song became a worship favorite after Christian artist Kari Jobe released her recording. Years later, it still touches hearts all over the world.
"Be still, my soul, The Lord is on thy side
Bear patiently, the cross of grief or pain
Leave to thy God, to order and provide
In every change, He faithful will remain"
Anna Richey is a talented musician with a God-given talent for performing. Today, she's using her gift to give all the glory to God with this beautiful rendition of 'Be Still My Soul (In You I Rest)' and it's absolutely stunning.
Just listen as she belts out these words of love and praise for our King.
"In You I rest, in You I found my hope
In You I trust, You never let me go
I place my life within Your hands alone
Be still, my soul"
Even in difficult times, we can find peace and comfort in the arms of the Lord.
Romans 5:2-5 "Through him we have also obtained access by faith into this grace in which we stand, and we rejoice in hope of the glory of God. More than that, we rejoice in our sufferings, knowing that suffering produces endurance, and endurance produces character, and character produces hope, and hope does not put us to shame, because God's love has been poured into our hearts through the Holy Spirit who has been given to us."
GodTube-Music

2297 views

2020-06-24T14:00:28

source: Anna Richey Talented vocalist Anna Richey leads us in praise with the beloved hymn 'Be Still My Soul (In You I Rest).'

This song became a worship favorite after Christian artist Kari Jobe released her recording. Years later, it still touches hearts all over the world.

"Be still, my soul, The Lord is on thy side
Bear patiently, the cross of grief or pain
Leave to thy God, to order and provide
In every change, He faithful will remain"

Anna Richey is a talented musician with a God-given talent for performing. Today, she's using her gift to give all the glory to God with this beautiful rendition of 'Be Still My Soul (In You I Rest)' and it's absolutely stunning.

Just listen as she belts out these words of love and praise for our King.

"In You I rest, in You I found my hope
In You I trust, You never let me go
I place my life within Your hands alone
Be still, my soul"

Even in difficult times, we can find peace and comfort in the arms of the Lord.

Romans 5:2-5 "Through him we have also obtained access by faith into this grace in which we stand, and we rejoice in hope of the glory of God. More than that, we rejoice in our sufferings, knowing that suffering produces endurance, and endurance produces character, and character produces hope, and hope does not put us to shame, because God's love has been poured into our hearts through the Holy Spirit who has been given to us."

Today's Devotional
A Prayer for a Strong Marriage - Your Daily Prayer - August 9
Top Artists