'Now I Belong To Jesus' A Cappella Hymn From Kaoma Chende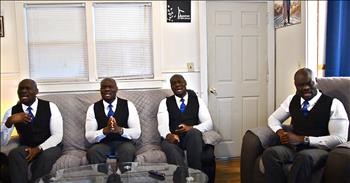 Kaoma Chende leads us in beautiful worship with 'Now I Belong To Jesus.'

This classic hymn was written by Norman J. Clayton and has seen become a beloved gospel favorite. The awe-inspiring words remind us that we are forever safe in the arms of the Lord.
"Jesus, my Lord will love me forever,
From Him no pow'r of evil can sever,
He gave His life to ransom my soul;
Now I belong to Him;"
Kaoma Chende has made a name for himself by covering classic hymns and Christian songs. This gifted vocalist creates a unique, a cappella arrangement and sings every part of the harmony on his own.This type of music can take hours and hours to perfect and record but Kaoma pulls each one off with each.
Today, he is sharing God's message through the beautiful words of 'Now I Belong To Jesus.'
"Now I belong to Jesus,
Jesus belongs to me,
Not for the years of time alone,
But for eternity."
We are so blessed to serve such a gracious and loving Father in Heaven. Let us sing these words and lift up His Name in praise.
2 Corinthians 5:17-19 "Therefore, if anyone is in Christ, he is a new creation. The old has passed away; behold, the new has come. All this is from God, who through Christ reconciled us to himself and gave us the ministry of reconciliation; that is, in Christ God was reconciling the world to himself, not counting their trespasses against them, and entrusting to us the message of reconciliation."
kaoma-chende

2598 views

2020-06-04T09:28:39

source: Kaoma Kaoma Chende leads us in beautiful worship with 'Now I Belong To Jesus.'

This classic hymn was written by Norman J. Clayton and has seen become a beloved gospel favorite. The awe-inspiring words remind us that we are forever safe in the arms of the Lord.

"Jesus, my Lord will love me forever,
From Him no pow'r of evil can sever,
He gave His life to ransom my soul;
Now I belong to Him;"

Kaoma Chende has made a name for himself by covering classic hymns and Christian songs. This gifted vocalist creates a unique, a cappella arrangement and sings every part of the harmony on his own.This type of music can take hours and hours to perfect and record but Kaoma pulls each one off with each.

Today, he is sharing God's message through the beautiful words of 'Now I Belong To Jesus.'

"Now I belong to Jesus,
Jesus belongs to me,
Not for the years of time alone,
But for eternity."

We are so blessed to serve such a gracious and loving Father in Heaven. Let us sing these words and lift up His Name in praise.

2 Corinthians 5:17-19 "Therefore, if anyone is in Christ, he is a new creation. The old has passed away; behold, the new has come. All this is from God, who through Christ reconciled us to himself and gave us the ministry of reconciliation; that is, in Christ God was reconciling the world to himself, not counting their trespasses against them, and entrusting to us the message of reconciliation."

Today's Devotional
A Prayer of Praise for Worn Out Bibles - Your Daily Prayer - September 19I live in this book, with this book, and by this book. Like our verse in Hebrews says, God's word to me is "alive and active."
Top Artists