Sister Teaches Her Brother A Bible Verse To Ease Fear During Coronavirus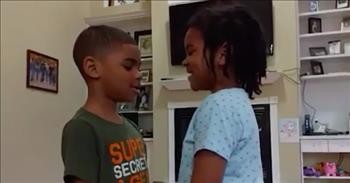 One sweet sister teaches her brother a Bible verse to ease his fear about the Coronavirus.

"But God did not give me a spirit of fear, but power, love, and a sound mind." The siblings, Brandon and Cameron, are holding hands as they recite 2 Timothy 1:7 together. 6-year-old Cameron is having her brother, Brandon, recite the words after she says them. After they finish saying the verse, the pair embrace with a loving hug.
Their mother, Sheletta Brundidge, is a comedian and mother of four. Their family is from Minnesota and is a family of faith. "We just believe in faith and we believe in Jesus, and we're not afraid to say it," says Sheletta.
Her son, Brandon, suffers from crippling anxiety because of his autism diagnosis, and when Cameron saw her brother tensing up after seeing the news about COVID-19, she knew just what to do: remind him of God's truth! Sheletta said that Cameron learned the verse at Fellowship Missionary Baptist Church in Minneapolis.
"She has autism, too," shares Sheletta about Cameron. "And for her to remember that — that was just amazing and a blessing to me. I'm so proud of her. She didn't just tell him to believe in God, but she gave him a Scripture, and not only that but the right one."
Not only is Sheletta proud of her daughter, but she said that this interaction between her children changed the way she was looking at things.
"While the world is stocking up on toilet paper and mayonnaise, jars of pickles and bottled water, she realized — at 6 years old — that it was only [Brandon's] faith that was going to get him through this," she says. "Just from the mouth of a child to another child, it transformed the way I looked at it. We don't have to be afraid of this. There's been worse. We just have to rely on our faith, take the precautions we need to take and continue to live our lives."
kidsarecute

19540 views

2020-03-19T09:47:00

source: Good Morning America One sweet sister teaches her brother a Bible verse to ease his fear about the Coronavirus.

"But God did not give me a spirit of fear, but power, love, and a sound mind." The siblings, Brandon and Cameron, are holding hands as they recite 2 Timothy 1:7 together. 6-year-old Cameron is having her brother, Brandon, recite the words after she says them. After they finish saying the verse, the pair embrace with a loving hug.

Their mother, Sheletta Brundidge, is a comedian and mother of four. Their family is from Minnesota and is a family of faith. "We just believe in faith and we believe in Jesus, and we're not afraid to say it," says Sheletta.

Her son, Brandon, suffers from crippling anxiety because of his autism diagnosis, and when Cameron saw her brother tensing up after seeing the news about COVID-19, she knew just what to do: remind him of God's truth! Sheletta said that Cameron learned the verse at Fellowship Missionary Baptist Church in Minneapolis.

"She has autism, too," shares Sheletta about Cameron. "And for her to remember that — that was just amazing and a blessing to me. I'm so proud of her. She didn't just tell him to believe in God, but she gave him a Scripture, and not only that but the right one."

Not only is Sheletta proud of her daughter, but she said that this interaction between her children changed the way she was looking at things.

"While the world is stocking up on toilet paper and mayonnaise, jars of pickles and bottled water, she realized — at 6 years old — that it was only [Brandon's] faith that was going to get him through this," she says. "Just from the mouth of a child to another child, it transformed the way I looked at it. We don't have to be afraid of this. There's been worse. We just have to rely on our faith, take the precautions we need to take and continue to live our lives."

Suggested For You
---
Related Videos
---
Today's Devotional
A Prayer to Be Sober-Minded - Your Daily Prayer - July 7
Top Artists