3 Sisters Sit On Couch And Sing A Cappella Rendition Of 'Christ Arose'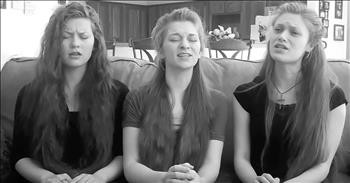 The three talented sisters of Parousia perform a beautiful, a cappella rendition of 'Christ Arose.' This beloved hymn reminds us all that God saved each and every one of us when He sent His only Son down to Earth to die for our sins.

"Up from the grave He arose,
With a mighty triumph o'er His foes,
He arose the Victor from the dark domain,
And He lives forever, with His saints to reign.
He arose! He arose!
Hallelujah! Christ arose!"
Today, the sisters of Parousia are singing these words out loud for the whole world to hear. On their website, they say, "We are a band of three sisters (Sarah, Hannah, and Rebecca) who love the Lord with all our hearts and have dedicated everything we do for the Glory of God!"
Now, these talented vocalists are singing the words of 'Christ Arose' a cappella. This means that they are using only their voices to make every sound you hear. Just listen as they belt out these lyrics that give glory to His Name.
"Death could not keep its
Prey, Jesus my Savior;
He tore the bars away,
Jesus my Lord!"
It's so amazing to see the next generation worship our Lord. Who else has their hands in the air in praise right now?
1 Peter 1:3 "Blessed be the God and Father of our Lord Jesus Christ! According to his great mercy, he has caused us to be born again to a living hope through the resurrection of Jesus Christ from the dead."
GodTube-Music

39260 views

2020-02-10T14:24:00

source: parousiachannel The three talented sisters of Parousia perform a beautiful, a cappella rendition of 'Christ Arose.' This beloved hymn reminds us all that God saved each and every one of us when He sent His only Son down to Earth to die for our sins.

"Up from the grave He arose,
With a mighty triumph o'er His foes,
He arose the Victor from the dark domain,
And He lives forever, with His saints to reign.
He arose! He arose!
Hallelujah! Christ arose!"

Today, the sisters of Parousia are singing these words out loud for the whole world to hear. On their website, they say, "We are a band of three sisters (Sarah, Hannah, and Rebecca) who love the Lord with all our hearts and have dedicated everything we do for the Glory of God!"

Now, these talented vocalists are singing the words of 'Christ Arose' a cappella. This means that they are using only their voices to make every sound you hear. Just listen as they belt out these lyrics that give glory to His Name.

"Death could not keep its
Prey, Jesus my Savior;
He tore the bars away,
Jesus my Lord!"

It's so amazing to see the next generation worship our Lord. Who else has their hands in the air in praise right now?

1 Peter 1:3 "Blessed be the God and Father of our Lord Jesus Christ! According to his great mercy, he has caused us to be born again to a living hope through the resurrection of Jesus Christ from the dead."

Today's Devotional
A Prayer for a Strong Marriage - Your Daily Prayer - August 9
Top Artists