'Clean' Acoustic Performance From Hillsong UNITED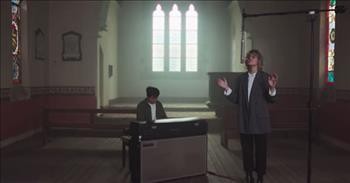 Hillsong UNITED performs a beautiful acoustic version of their song 'Clean.'

"Precious blood has left me forgiven
Pure like the whitest of snow
Powerful to make sin and shame retreat
This covenant is making me whole
So I will rise and lift my head
For by His mercy my life was spared
The highest Name has set me free
Because of Jesus
My heart is clean"
The words and music for this song were written by Michael Fatkin, Taya Gaukrodger, and Hannah Hobbs. And Taya is the one singing in this video.
The setting of the music video is in a bare, abandoned church. Taya's beautiful vocals are paired with someone playing the keys, and the whole thing is just so simple and pure. The powerful lyrics along with the incredible music make this song one that you just want to play over and over again.
"Despite what is going on in the world with COVID-19, the sacrifice that Jesus made for us hasn't lost its power,"
writes
someone on YouTube after listening to this song. "God's sovereignty isn't any less in the midst of this pandemic. The love that God has for us has not diminished. It's such a blessing to be reminded of that. Thank you."
Worship songs have a way of encouraging us, especially in times like these. May we always remember that through Jesus' victory over death, he opened the way to heaven, and we are washed clean from our sins. Through his victory, we will always have a reason to rejoice.
Isaiah 53:4-5
"Surely he took up our pain and bore our suffering, yet we considered him punished by God, stricken by him, and afflicted. 5 But he was pierced for our transgressions, he was crushed for our iniquities; the punishment that brought us peace was on him, and by his wounds we are healed."
hillsong-united

2710 views

2020-04-15T16:50:00

source: Hillsong United Hillsong UNITED performs a beautiful acoustic version of their song 'Clean.'

"Precious blood has left me forgiven
Pure like the whitest of snow
Powerful to make sin and shame retreat
This covenant is making me whole

So I will rise and lift my head
For by His mercy my life was spared
The highest Name has set me free
Because of Jesus
My heart is clean"

The words and music for this song were written by Michael Fatkin, Taya Gaukrodger, and Hannah Hobbs. And Taya is the one singing in this video.

The setting of the music video is in a bare, abandoned church. Taya's beautiful vocals are paired with someone playing the keys, and the whole thing is just so simple and pure. The powerful lyrics along with the incredible music make this song one that you just want to play over and over again.

"Despite what is going on in the world with COVID-19, the sacrifice that Jesus made for us hasn't lost its power," writes someone on YouTube after listening to this song. "God's sovereignty isn't any less in the midst of this pandemic. The love that God has for us has not diminished. It's such a blessing to be reminded of that. Thank you."

Worship songs have a way of encouraging us, especially in times like these. May we always remember that through Jesus' victory over death, he opened the way to heaven, and we are washed clean from our sins. Through his victory, we will always have a reason to rejoice.

Isaiah 53:4-5
"Surely he took up our pain and bore our suffering, yet we considered him punished by God, stricken by him, and afflicted. 5 But he was pierced for our transgressions, he was crushed for our iniquities; the punishment that brought us peace was on him, and by his wounds we are healed."

Today's Devotional
A Prayer for a Strong Marriage - Your Daily Prayer - August 9
Top Artists