'Down To The River To Pray' The Detty Sisters And Family Sing Classic Hymn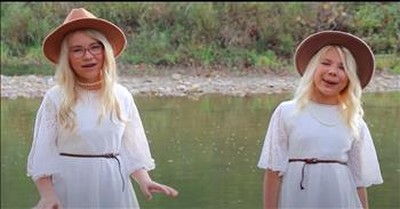 Praise the Lord as The Detty Sisters and family sing the classic hymn 'Down to The River To Pray.' This special song reminds us that God is always listening and He hears each and every one of our prayers.

"As I went down in the river to pray
Studying about that good old way
And who shall wear the starry crown
Good Lord, show me the way!"
The Detty Sisters are comprised of four country cuties from southern Ohio. Peyton, Cadie, Lily and Sophia have all been singing worship songs since a very young age. Peyton and Cadie would sing in church and it eventually transformed into playing other venues and even releasing an album of hymns.
Today, The Detty Sisters and their mom are leading us in worship with the beautiful hymn 'Down To The River To Pray.'
"O sisters, let's go down,
Let's go down, come on down
O sisters, let's go down
Down in the river to pray"
This song is a favorite by so many and hearing these anointed voices worship the Lord is absolute perfection.
One user said
, "I could listen to you all all the time. I just love you all. God is smiling down on you all. Very precious family."
We are so blessed to serve such a loving and gracious and Lord and this hymn is a wonderful way to praise His Name.
1 John 1:9 "If we confess our sins, he is faithful and just to forgive us our sins and to cleanse us from all unrighteousness."
the-detty-sisters

11486 views

2021-10-13T13:31:21

source: The Detty Sisters Praise the Lord as The Detty Sisters and family sing the classic hymn 'Down to The River To Pray.' This special song reminds us that God is always listening and He hears each and every one of our prayers.

"As I went down in the river to pray
Studying about that good old way
And who shall wear the starry crown
Good Lord, show me the way!"

The Detty Sisters are comprised of four country cuties from southern Ohio. Peyton, Cadie, Lily and Sophia have all been singing worship songs since a very young age. Peyton and Cadie would sing in church and it eventually transformed into playing other venues and even releasing an album of hymns.

Today, The Detty Sisters and their mom are leading us in worship with the beautiful hymn 'Down To The River To Pray.'

"O sisters, let's go down,
Let's go down, come on down
O sisters, let's go down
Down in the river to pray"

This song is a favorite by so many and hearing these anointed voices worship the Lord is absolute perfection.

One user said, "I could listen to you all all the time. I just love you all. God is smiling down on you all. Very precious family."

We are so blessed to serve such a loving and gracious and Lord and this hymn is a wonderful way to praise His Name.

1 John 1:9 "If we confess our sins, he is faithful and just to forgive us our sins and to cleanse us from all unrighteousness."

Today's Devotional
A Prayer to Remember That Joy Is a Way of Life - Your Daily Prayer - May 21
The Bible commands us, "be joyful aways!"
Top Artists
Top Music Videos