Blessed Assurance' Jeremy Riddle And Worship Circle Lead Us In Praise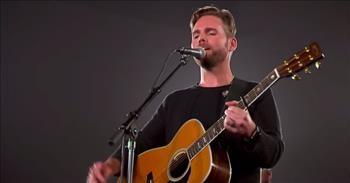 Jeremy Riddle leads a worship circle in the beloved hymn 'Blessed Assurance.'

"Blessed assurance, Jesus is mine
O what a foretaste of glory divine
Heir of salvation, purchase of God
Born of His Spirit, washed in His blood
This is my story, this is my song
Praising my Savior all the day long
This is my story, this is my song
Praising my Savior all the day long"
It is incredible to see and hear all of those people worshiping together, singing out such beautiful and powerful lyrics.
"The Lord overwhelmed me with His presence while listening to this song,"
writes
one person on YouTube. "I've never experienced this before listening to worship music on YouTube. But tears and laughter overflowed. Just wow God! Thank you for sharing this anointed session."
"I think of the person who penned this hymn and imagine if they had a glimpse from heaven to see it still being sung today with such power and passion,"
comments
another person. "Truly God inspired and truly beautiful. Love it!"
This hymn was written in 1873 by Fanny Crosby who used music by Phoebe Knapp. Phoebe was visiting Fanny's house one day when she played her a tune on the piano. Phoebe asked Fanny what it sounded like and Fanny replied, 'Blessed Assurance, Jesus is mine!'
The pair continued to finish the composition and give us the hymn that we all know and love today. And it's so incredible to hear the next generation of musicians continue to perform this traditional worship song.
May we continue to praise God all of our days and count all the ways that He has blessed us. What an incredible thing it is to be loved by our Heavenly Father!
2 Corinthians 12:9-10
"But he said to me, "My grace is sufficient for you, for my power is made perfect in weakness." Therefore, I will boast all the more gladly of my weaknesses, so that the power of Christ may rest upon me. For the sake of Christ, then, I am content with weaknesses, insults, hardships, persecutions, and calamities. For when I am weak, then I am strong."
GodTube-Music

383 views

2020-05-18T12:59:42

source: Worship Circle Jeremy Riddle leads a worship circle in the beloved hymn 'Blessed Assurance.'

"Blessed assurance, Jesus is mine
O what a foretaste of glory divine
Heir of salvation, purchase of God
Born of His Spirit, washed in His blood
This is my story, this is my song
Praising my Savior all the day long
This is my story, this is my song
Praising my Savior all the day long"

It is incredible to see and hear all of those people worshiping together, singing out such beautiful and powerful lyrics.

"The Lord overwhelmed me with His presence while listening to this song," writes one person on YouTube. "I've never experienced this before listening to worship music on YouTube. But tears and laughter overflowed. Just wow God! Thank you for sharing this anointed session."

"I think of the person who penned this hymn and imagine if they had a glimpse from heaven to see it still being sung today with such power and passion," comments another person. "Truly God inspired and truly beautiful. Love it!"

This hymn was written in 1873 by Fanny Crosby who used music by Phoebe Knapp. Phoebe was visiting Fanny's house one day when she played her a tune on the piano. Phoebe asked Fanny what it sounded like and Fanny replied, 'Blessed Assurance, Jesus is mine!'

The pair continued to finish the composition and give us the hymn that we all know and love today. And it's so incredible to hear the next generation of musicians continue to perform this traditional worship song.

May we continue to praise God all of our days and count all the ways that He has blessed us. What an incredible thing it is to be loved by our Heavenly Father!

2 Corinthians 12:9-10
"But he said to me, "My grace is sufficient for you, for my power is made perfect in weakness." Therefore, I will boast all the more gladly of my weaknesses, so that the power of Christ may rest upon me. For the sake of Christ, then, I am content with weaknesses, insults, hardships, persecutions, and calamities. For when I am weak, then I am strong."


Today's Devotional
A Prayer to Forgive Yourself - Your Daily Prayer - June 3
Top Artists