'Yes I Know' Guy Penrod With Gaither Vocal Band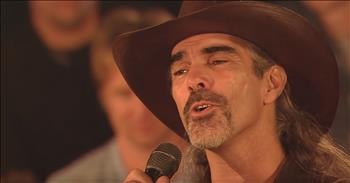 Guy Penrod and the rest of the Gaither Vocal Band perform a rousing rendition of 'Yes, I Know.' These powerful words remind us that God will always be by our side.

"And I know, yes, I know
Jesus' blood can make the vilest sinner clean
To the faint He giveth power
Through the mountains makes a way;
Findeth water in the desert
Turns the night to golden day"
This popular all-male southern ensemble has been sharing their gospel music for decades. The band name comes from the founder and leader, Bill Gaither, who has written countless hymns and worship favorites.
Since 1981, this group has performed hundreds of beloved worship tunes and beautiful original songs all over the world. While some of the members have changed, the group still remains committed to spreading God's message through music.
Today, we're looking back at a live performance of the classic hymn 'Yes, I Know.' These incredible lyrics show us that even in our darkest moments, God will never abandon us.
"He will keep thee while the ages
Roll throughout eternity;
Though earth hinders and hell rages
All must work for good to thee"
We are so blessed to serve such a loving and gracious Father in Heaven. Let us join our voices together and give praise to His Name.
Ephesians 2:8-9 "For by grace you have been saved through faith. And this is not your own doing; it is the gift of God, not a result of works, so that no one may boast."
gaither-vocal-band

2221 views

2019-08-28T15:12:11

source: Gaither Vocal Band Guy Penrod and the rest of the Gaither Vocal Band perform a rousing rendition of 'Yes, I Know.' These powerful words remind us that God will always be by our side.

"And I know, yes, I know
Jesus' blood can make the vilest sinner clean
To the faint He giveth power
Through the mountains makes a way;
Findeth water in the desert
Turns the night to golden day"

This popular all-male southern ensemble has been sharing their gospel music for decades. The band name comes from the founder and leader, Bill Gaither, who has written countless hymns and worship favorites.

Since 1981, this group has performed hundreds of beloved worship tunes and beautiful original songs all over the world. While some of the members have changed, the group still remains committed to spreading God's message through music.

Today, we're looking back at a live performance of the classic hymn 'Yes, I Know.' These incredible lyrics show us that even in our darkest moments, God will never abandon us.

"He will keep thee while the ages
Roll throughout eternity;
Though earth hinders and hell rages
All must work for good to thee"

We are so blessed to serve such a loving and gracious Father in Heaven. Let us join our voices together and give praise to His Name.

Ephesians 2:8-9 "For by grace you have been saved through faith. And this is not your own doing; it is the gift of God, not a result of works, so that no one may boast."

Today's Devotional
A Prayer for Dishing Out Truth - Your Daily Prayer - February 18
Top Artists