Jeanne Robertson's Hilarious Response To Being Called Old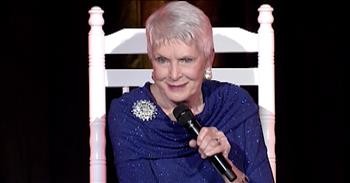 Clean comedian Jeanne Robertson is back with another hilarious conversation about getting older.

For decades, Jeanne has shared so many funny stories about her life and the antics that she always manages to get into. Through the years, we've all come to love her goofy husband, Left Brain, and that unmistakable Southern drawl.
This funny lady always leaves us laughing and this recent story is no different. Jeanne's career takes her all over the nation on speaking engagements. This is Jeanne's passion and she absolutely loves sharing her unique sense of humor with others.
Even at the age of 76, Jeanne chooses to continue to visit cities and perform. But at one recent event, Jeanne was in for quite the surprise at a 'milennial's' reaction to her age. This fan-favorite comedian is known for sitting down in a rocking chair during her speaking engagements.
For this unmistakable Southern woman, it's a trait that suits her routine. However, an employee at the event was so confused by Jeanne's age and working situation that she just had to a make a comment. And the result that followed had everyone rolling in the floor in laughter.
While some people may have gotten offended, Jeanne turned the whole situation into a hilarious story that everyone is getting a kick out of.
What about you? What did you think of this 'over the hill' comment from the younger employee? You can see this clip and more funny jokes from Jeanne on her latest video, "Rocking Humor."
jeanne-robertson

21446 views

2019-10-28T15:30:12

source: Jeanne Robertson Clean comedian Jeanne Robertson is back with another hilarious conversation about getting older.

For decades, Jeanne has shared so many funny stories about her life and the antics that she always manages to get into. Through the years, we've all come to love her goofy husband, Left Brain, and that unmistakable Southern drawl.

This funny lady always leaves us laughing and this recent story is no different. Jeanne's career takes her all over the nation on speaking engagements. This is Jeanne's passion and she absolutely loves sharing her unique sense of humor with others.

Even at the age of 76, Jeanne chooses to continue to visit cities and perform. But at one recent event, Jeanne was in for quite the surprise at a 'milennial's' reaction to her age. This fan-favorite comedian is known for sitting down in a rocking chair during her speaking engagements.

For this unmistakable Southern woman, it's a trait that suits her routine. However, an employee at the event was so confused by Jeanne's age and working situation that she just had to a make a comment. And the result that followed had everyone rolling in the floor in laughter.

While some people may have gotten offended, Jeanne turned the whole situation into a hilarious story that everyone is getting a kick out of.

What about you? What did you think of this 'over the hill' comment from the younger employee? You can see this clip and more funny jokes from Jeanne on her latest video, "Rocking Humor."
Suggested For You
---
Related Videos
---
Today's Devotional
A Prayer for Wonder - Your Daily Prayer - January 25
Top Artists