'Wanted' Danny Gokey Official Music Video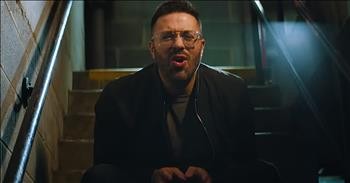 Talented Christian artist Danny Gokey releases his latest music video for 'Wanted.' This powerful single reminds us all that God sees all of our broken pieces and still loves us.

"Now you only see through broken lenses
Trying to keep your head above the shame
You believe the lie that I am distant
But I hold you every day
Yeah, I hold you every day
If you could see it through my eyes"
Everyone goes through times in their lives where they may feel lost or distant from the Lord. It's during these dark times that it is so important to lean on God.
On Facebook, Danny wrote about the inspiration behind 'Wanted.' "The message of this song is so timely to me as we face all the rejection, confusion, anxiety & depression in our culture. We need to share the message of unconditional love that only comes from our Heavenly Father! This song is HIs heart towards each of us...not rejected, not abandon, not unwelcome...you're Wanted and deeply loved! We all need to hear that!!"
"You'd know that you are wanted
You'd know that you are wanted
And if you'd let my love inside
I'll show you that you're wanted
I'll show you that you're wanted"
The whole world needs to know that God loves you and will never abandon you. This Christian song spreads this positive message and it's one that you don't want to miss.
1 John 4:16 "So we have come to know and to believe the love that God has for us. God is love, and whoever abides in love abides in God, and God abides in him."
danny-gokey

849 views

2019-10-17T11:26:32

source: Danny Gokey Talented Christian artist Danny Gokey releases his latest music video for 'Wanted.' This powerful single reminds us all that God sees all of our broken pieces and still loves us.

"Now you only see through broken lenses
Trying to keep your head above the shame
You believe the lie that I am distant
But I hold you every day
Yeah, I hold you every day
If you could see it through my eyes"

Everyone goes through times in their lives where they may feel lost or distant from the Lord. It's during these dark times that it is so important to lean on God.

On Facebook, Danny wrote about the inspiration behind 'Wanted.' "The message of this song is so timely to me as we face all the rejection, confusion, anxiety & depression in our culture. We need to share the message of unconditional love that only comes from our Heavenly Father! This song is HIs heart towards each of us...not rejected, not abandon, not unwelcome...you're Wanted and deeply loved! We all need to hear that!!"

"You'd know that you are wanted
You'd know that you are wanted
And if you'd let my love inside
I'll show you that you're wanted
I'll show you that you're wanted"

The whole world needs to know that God loves you and will never abandon you. This Christian song spreads this positive message and it's one that you don't want to miss.

1 John 4:16 "So we have come to know and to believe the love that God has for us. God is love, and whoever abides in love abides in God, and God abides in him."

Today's Devotional
A Prayer for When You Don't Feel Like Praising God - Your Daily Prayer - May 27
Top Artists