'Love God Love People' Danny Gokey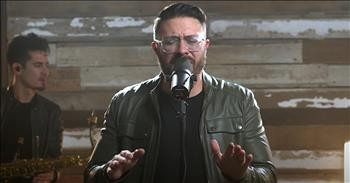 Contemporary Christian artist Danny Gokey leads us in worship with 'Love God Love People.'

This powerful song is the perfect reminder to be kind and love one another, always.
"We're living in a world that keeps breakin'
But if we want to find a way to change it
It all comes down to this
Love God and love people"
Danny Gokey rose to fame as a contestant on the eighth season of American Idol. He quickly became a fan-favorite and went on to place third in the competition. Years later, Danny has made a name for himself as an inspiring Christian artist with hits such as 'Hope In Front Of Me' and 'Tell Your Heart To Beat Again.'
Now, he's sharing his latest single 'Love God Love People.' On Instagram, Danny wrote about the sentiment behind these uplifting lyrics. "His love is the greatest equalizer. It teaches us to love on a deeper level." And he shared an inspiring quote. "You'll never look into the eyes of someone God does not love."
Take in this message as you listen to Danny belt out these incredible words.
"Love is patient
Love is kind
Rescues hearts and changes lives
Love is all we need to make things right
Gotta keep it real simple
It's really so simple, oh!"
John 13:34-35 "A new commandment I give to you, that you love one another: just as I have loved you, you also are to love one another. By this all people will know that you are my disciples, if you have love for one another."
danny-gokey

617 views

2020-07-08T14:19:39

source: Danny Gokey Contemporary Christian artist Danny Gokey leads us in worship with 'Love God Love People.'

This powerful song is the perfect reminder to be kind and love one another, always.

"We're living in a world that keeps breakin'
But if we want to find a way to change it
It all comes down to this
Love God and love people"

Danny Gokey rose to fame as a contestant on the eighth season of American Idol. He quickly became a fan-favorite and went on to place third in the competition. Years later, Danny has made a name for himself as an inspiring Christian artist with hits such as 'Hope In Front Of Me' and 'Tell Your Heart To Beat Again.'

Now, he's sharing his latest single 'Love God Love People.' On Instagram, Danny wrote about the sentiment behind these uplifting lyrics. "His love is the greatest equalizer. It teaches us to love on a deeper level." And he shared an inspiring quote. "You'll never look into the eyes of someone God does not love."

Take in this message as you listen to Danny belt out these incredible words.

"Love is patient
Love is kind
Rescues hearts and changes lives
Love is all we need to make things right
Gotta keep it real simple
It's really so simple, oh!"

John 13:34-35 "A new commandment I give to you, that you love one another: just as I have loved you, you also are to love one another. By this all people will know that you are my disciples, if you have love for one another."

Today's Devotional
A Prayer for a Strong Marriage - Your Daily Prayer - August 9
Top Artists