'The Devil Is A Liar' We Are Messengers Official Video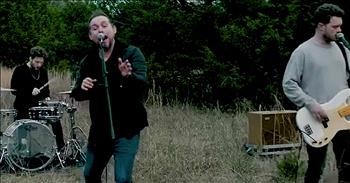 Stand firm in your faith as you listen to the new single "The Devil Is A Liar" from We Are Messengers. These powerful lyrics will remind you that there is strength in the name of the Lord and nothing can tear us down when He is by our side.

"The Devil is a liar
The Devil is a liar
My God has set me free
Opened my eyes now I can see
The Devil is a liar
And he's not fooling me"
When we let fear take over our lives, it can turn everything upside down. It is a gateway for The Devil to enter and make us believe things that are untrue such as we are unworthy or not enough. But when we put our trust and faith in God, fear will always be cast out.
"I know he won't give up easy nah
He can try but he won't deceive me
I can see, I can see right through him
He wants me to hide, he's the father of lies
But I got an army on my side
And we're not backing down"
This incredible song from We Are Messengers is the anthem that we need to drive The Devil back. We have an army beside us and we won't stand down.
1 Peter 5:8-9 "8 Be alert and of sober mind. Your enemy the devil prowls around like a roaring lion looking for someone to devour. 9 Resist him, standing firm in the faith, because you know that the family of believers throughout the world is undergoing the same kind of sufferings."
we-are-messengers

9628 views

2019-01-29T13:21:00

source: WE ARE MESSENGERS Stand firm in your faith as you listen to the new single "The Devil Is A Liar" from We Are Messengers. These powerful lyrics will remind you that there is strength in the name of the Lord and nothing can tear us down when He is by our side.

"The Devil is a liar
The Devil is a liar
My God has set me free
Opened my eyes now I can see
The Devil is a liar
And he's not fooling me"

When we let fear take over our lives, it can turn everything upside down. It is a gateway for The Devil to enter and make us believe things that are untrue such as we are unworthy or not enough. But when we put our trust and faith in God, fear will always be cast out.

"I know he won't give up easy nah
He can try but he won't deceive me
I can see, I can see right through him
He wants me to hide, he's the father of lies
But I got an army on my side
And we're not backing down"

This incredible song from We Are Messengers is the anthem that we need to drive The Devil back. We have an army beside us and we won't stand down.

1 Peter 5:8-9 "8 Be alert and of sober mind. Your enemy the devil prowls around like a roaring lion looking for someone to devour. 9 Resist him, standing firm in the faith, because you know that the family of believers throughout the world is undergoing the same kind of sufferings."
Today's Devotional
A Prayer for the Strength We Need to Be Joyful - Your Daily Prayer - August 14
Top Artists