'Jesus Messiah' - Gaither Vocal Band Live Performance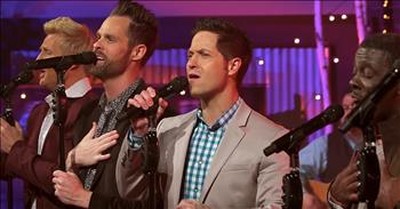 Worship along with The Gaither Vocal Band as they belt out the lyrics to 'Jesus Messiah.' These powerful words are the perfect way to honor our Father in Heaven.

"He became sin, who knew no sin
That we might become his righteousness
He humbled himself and carried the cross
Love so amazing, love so amazing"
The Gaither Vocal Band is known for their wonderful praise and worship tunes. These men truly have a God-given talent for singing and I'm so glad they're using this gift to glorify His name. The Lord has given us so many blessings in our lives and it's always important to take time and pause to give thanks. The beautiful lyrics of 'Jesus Messiah' will remind you of the sacrifice He made and how we owe all to Him.
"Jesus messiah, name above all names
Blessed redeemer, Emmanuel
The rescue for sinners, the ransom from heaven
Jesus messiah, lord of all"
He gave us life and when He sent His only Son to Earth to die for us on the cross. All of our sins were forgiven and now, we're free of our chains and can live out our days in Heaven above. What a wonderful blessing that is indeed. This song is just what my heart needed to hear today. Amen!
John 4: 25-26 "The woman said to him, "I know that Messiah is coming (he who is called Christ). When he comes, he will tell us all things." Jesus said to her, "I who speak to you am he.""
gaither-vocal-band

63800 views

2018-05-08T15:30:00

source: GaitherVEVO Worship along with The Gaither Vocal Band as they belt out the lyrics to 'Jesus Messiah.' These powerful words are the perfect way to honor our Father in Heaven.

"He became sin, who knew no sin
That we might become his righteousness
He humbled himself and carried the cross
Love so amazing, love so amazing"

The Gaither Vocal Band is known for their wonderful praise and worship tunes. These men truly have a God-given talent for singing and I'm so glad they're using this gift to glorify His name. The Lord has given us so many blessings in our lives and it's always important to take time and pause to give thanks. The beautiful lyrics of 'Jesus Messiah' will remind you of the sacrifice He made and how we owe all to Him.

"Jesus messiah, name above all names
Blessed redeemer, Emmanuel
The rescue for sinners, the ransom from heaven
Jesus messiah, lord of all"

He gave us life and when He sent His only Son to Earth to die for us on the cross. All of our sins were forgiven and now, we're free of our chains and can live out our days in Heaven above. What a wonderful blessing that is indeed. This song is just what my heart needed to hear today. Amen!

John 4: 25-26 "The woman said to him, "I know that Messiah is coming (he who is called Christ). When he comes, he will tell us all things." Jesus said to her, "I who speak to you am he.""
Today's Devotional
A Prayer for Joy - Your Daily Prayer - August 13
So how can we stay in the joy of the Lord all day long, regardless of our circumstances? Here are a few things that we can be intentional about:
Top Artists
Top Music Videos