My Redeemer Lives - Team Hoyt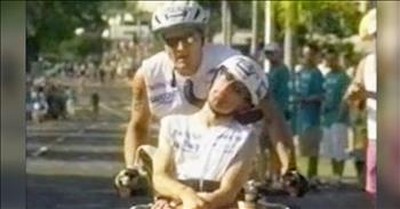 Incredible video about the relationship between a father and son.... and God's relationship with us. This is the story of Dick and Rick Hoyt, also known as 'Team Hoyt.' When you watch this, you'll see why the video went viral on GodTube many years ago, making it the site's most popular video of all time!

When Rick Hoyt was born in 1962, he had a very difficult time coming into this world when the umbilical cord wrapped tightly around his neck. The lack of oxygen during his birth would ultimately leave Rick as a quadriplegic suffering from cerebral palsy. People told his parents that they should institutionalize Rick because he was hopeless and would never be more than a 'vegetable.'
But thank God, Rick's parents knew better! They could tell that he followed them with his eyes, and knew that just because he couldn't talk didn't mean he couldn't understand! Eventually, a costly computer system was used for Rick to be able to communicate with his parents, and they realized he loved sports.
In 1977, he asked his dad for help so he could run in a race to benefit a lacrosse player at his school who had become paralyzed. He thought it would inspire the boy to see that life would go on in spite of his disability. What ended up happening during that race would change Dick and Rick's lives forever!
After the race, Rick said, "Dad, when I'm running, it feels like I'm not handicapped." This moved his dad so much that they would eventually go on to run in more than 1,100 races including 72 marathons. This was quite the accomplishment because Dick had never been a runner and he was already 36 years old at this time!
They decided that the Boston Marathon in 2013 would be their final marathon together, but when bombs went off at the finish line, they weren't able to finish the race. So they came back in 2014 for their farewell marathon run.
This father and son are a true tribute to the beauty of serving others and putting their needs above your own. It is an inspiring testament to perseverance and overcoming, and not giving up! The video is set to the powerful hymn, "My Redeemer Lives." Watch and be blessed by this inspiring video!
Philippians 4:13 Modern English Version (MEV)
13 I can do all things because of Christ who strengthens me.
Learn more about Dick and Rick's journey at their website:
http://www.teamhoyt.com/About-Team-Hoyt.html
Embed

sand2rock95

16248106 views

2008-03-17T00:00:00

Incredible video about the relationship between a father and son.... and God's relationship with us. This is the story of Dick and Rick Hoyt, also known as 'Team Hoyt.' When you watch this, you'll see why the video went viral on GodTube many years ago, making it the site's most popular video of all time!

When Rick Hoyt was born in 1962, he had a very difficult time coming into this world when the umbilical cord wrapped tightly around his neck. The lack of oxygen during his birth would ultimately leave Rick as a quadriplegic suffering from cerebral palsy. People told his parents that they should institutionalize Rick because he was hopeless and would never be more than a 'vegetable.'

But thank God, Rick's parents knew better! They could tell that he followed them with his eyes, and knew that just because he couldn't talk didn't mean he couldn't understand! Eventually, a costly computer system was used for Rick to be able to communicate with his parents, and they realized he loved sports.

In 1977, he asked his dad for help so he could run in a race to benefit a lacrosse player at his school who had become paralyzed. He thought it would inspire the boy to see that life would go on in spite of his disability. What ended up happening during that race would change Dick and Rick's lives forever!

After the race, Rick said, "Dad, when I'm running, it feels like I'm not handicapped." This moved his dad so much that they would eventually go on to run in more than 1,100 races including 72 marathons. This was quite the accomplishment because Dick had never been a runner and he was already 36 years old at this time!

They decided that the Boston Marathon in 2013 would be their final marathon together, but when bombs went off at the finish line, they weren't able to finish the race. So they came back in 2014 for their farewell marathon run.

This father and son are a true tribute to the beauty of serving others and putting their needs above your own. It is an inspiring testament to perseverance and overcoming, and not giving up! The video is set to the powerful hymn, "My Redeemer Lives." Watch and be blessed by this inspiring video!

Philippians 4:13 Modern English Version (MEV)
13 I can do all things because of Christ who strengthens me.

Learn more about Dick and Rick's journey at their website: http://www.teamhoyt.com/About-Team-Hoyt.html



Top Artists
Top Music Videos