'Sometimes It Takes A Mountain' Gaither Vocal Band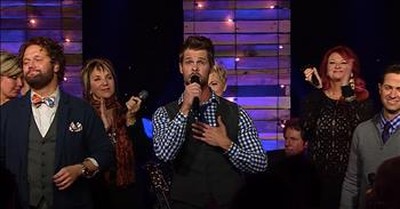 The Gaither Vocal Band perform a live rendition of 'Sometimes It Takes A Mountain.'

These talented male voices come together to give praise to the Lord in the most beautiful way.
"I faced a mountain,
That I never faced before
That's why I'm calling on the Lord
I know it's been awhile,
Lord please hear my prayer
I need you like I never have before."
'Sometimes It Takes A Mountain' was originally released in 2014. The words remind us all that there is nothing impossible when we have God in our hearts. The Lord is always by our side, even through the tough times. And, when we put our trust in Him, we are opening our lives up to something greater than we could ever imagine.
The Gaither Vocal Band belt out these powerful lyrics and you can hear the passion in every single note.
"Sometimes it takes a mountain
Sometimes a troubled sea
Sometimes it takes a desert
To get a hold of me
Your Love is so much stronger
Then whatever troubles me
Sometimes it takes a mountain
To trust you and believe"
These men are truly blessed with a God-given talent for leading worship and it's such a blessing to watch them use that gift to give glory to His name.
Matthew 17:20 "He replied, "Because you have so little faith. Truly I tell you, if you have faith as small as a mustard seed, you can say to this mountain, 'Move from here to there,' and it will move. Nothing will be impossible for you.""
Embed

gaither-vocal-band

40797 views

2015-03-10T11:24:00

The Gaither Vocal Band perform a live rendition of 'Sometimes It Takes A Mountain.'

These talented male voices come together to give praise to the Lord in the most beautiful way.

"I faced a mountain,
That I never faced before
That's why I'm calling on the Lord
I know it's been awhile,
Lord please hear my prayer
I need you like I never have before."

'Sometimes It Takes A Mountain' was originally released in 2014. The words remind us all that there is nothing impossible when we have God in our hearts. The Lord is always by our side, even through the tough times. And, when we put our trust in Him, we are opening our lives up to something greater than we could ever imagine.

The Gaither Vocal Band belt out these powerful lyrics and you can hear the passion in every single note.

"Sometimes it takes a mountain
Sometimes a troubled sea
Sometimes it takes a desert
To get a hold of me
Your Love is so much stronger
Then whatever troubles me
Sometimes it takes a mountain
To trust you and believe"

These men are truly blessed with a God-given talent for leading worship and it's such a blessing to watch them use that gift to give glory to His name.

Matthew 17:20 "He replied, "Because you have so little faith. Truly I tell you, if you have faith as small as a mustard seed, you can say to this mountain, 'Move from here to there,' and it will move. Nothing will be impossible for you.""
Today's Devotional
A Prayer for Joy - Your Daily Prayer - August 13
So how can we stay in the joy of the Lord all day long, regardless of our circumstances? Here are a few things that we can be intentional about:
Top Artists
Top Music Videos