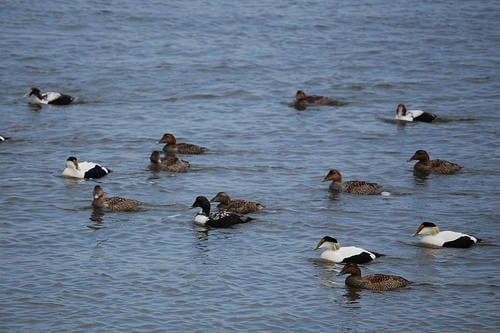 These days it is not difficult to find garbage on the television.  It seems
that any time of day one can find a plethora of immorality glorified in
living color.  This is sordid proof that where there is a demand, there
will be someone to meet that demand.  Judging by what is on television
these days, there must be a great demand for explicit immorality; not to
mention the overload of science(?) programming pushing the humanistic
theory of evolution.  One could assess, from the current pop television
lineup, that there is no longer any place for God in our society, at least
when it comes to entertaining television.
Alas, there is a beacon of hope.  *Duck Dynasty*, on the Arts and
Entertainment channel, is a stand out program in a sea of
less-than-family-friendly television programming.  The show centers around
the Robertson family; a family of Southerners who run a multimillion-dollar
duck-call empire.  In the midst of all this televised smut, it is
encouraging to find a television show that depicts a family who, while
dealing with the every day ups-and-downs of life, attempt to publicly
glorify God and worship Him with their lives.
The patriarch of the family, Phil Robertson, came to know Jesus the way
many have before him.  He was living a self-centered life, he became overly
involved with the consumption of alcohol, he found himself losing the
things he cared about, he realized he could not fix himself, and he
surrendered his life to God, trusting in Jesus' payment on the cross to pay
for his sins.
Since that time, *Duck Commander*, Phil's duck call manufacturing business,
has grown into a multi-million dollar company.  The company employs almost
all of Phil's family and their day-to-day life is filmed for *Duck
Dynasty*on the Art and Entertainment (A&E) network.
The show centers around the business of making duck calls.  There are many
hilarious moments from a host of colorful characters.  Sometimes there are
so many antics going on that it is difficult to see how they get any work
done at all.
However, what impressed me most about the show, and keeps me tuning in, is
the family's in-your-face dedication to God.  When I first witnessed the
family gathered together at the supper table, as Phil Robertson prayed a
heartfelt prayer of thanks to God for the food on their table, I was hooked.
He even ended the prayer with, "In Jesus' name", a phrase you almost never
hear on television anymore.  I have since watched twenty-nine episodes and
have become more convinced that the Robertson family's faith is real and
deeply foundational to their existence.
When the men in the family are not working on duck calls, they tour the
country spreading a strong evangelistic message mixed with hunting tips and
tricks.  The eldest son has been pastor of their local church until
recently, and one of the boys, Willie, spent many years as a youth pastor
and church camp coordinator.
Willie and his wife, Korie, have written a book together (*The Duck
Commander Family*) about their lives.  The book reveals their deep love for
each other, their children (one of whom they adopted), and most of all, God.
It is clear that the duck call business, although a blessing from God,
comes behind their love and devotion to Jesus.  A passage from their book
sums up a big part of their philosophy.  Speaking about the only way to be
truly successful in the world today, Willie writes, "You have to
acknowledge that it is from above.  And you have to have the confidence
that even if you lose it all, things will be okay…Our confidence is not in
the monetary success we have gained.  It is in the One who made us and who
is there for us in good times and bad" (Robertson, p. 119).  You can sense
this attitude as you watch the show.
One of Phil's catch phrases is, "Everybody's Happy, Happy, Happy", and it
is clear, when watching this family, that they believe the only way to be
happy is to have a saving relationship with God through faith in Jesus
Christ.
Conclusion
The final scene of most every episode, where the family is gathered around
the table for dinner and Phil prays, is a very encouraging sight on
television these days.  Christians need to support programming like this.  No
matter what your views are on hunting or long hair and beards, you will
catch yourself laughing (even if you do not want to) and being encouraged
in your faith at the same time.
Guest Post By: Robert Driskell
Robert received a Bachelor of Arts degree in both Pastoral Ministries and Biblical Studies from Mid-America Christian University in 1995. He is convinced that the hope of the world lies in men and women having a saving relationship with God through faith in Jesus Christ. Robert believes that the Bible contains the truth that God wants us to base our lives upon. He is passionate about understanding the Bible and helping others do the same. Only when one views life through the lens of the Bible can one arrive at a worldview based on truth. Robert is happily married and lives in Oklahoma City, Oklahoma.
Additional Resources:Robertson, Willie & Korie.  *The Duck Commander Family*.  Howard Books,
2012.photo credit: InAweofGod'sCreation via photopin cc,www.youtube.com