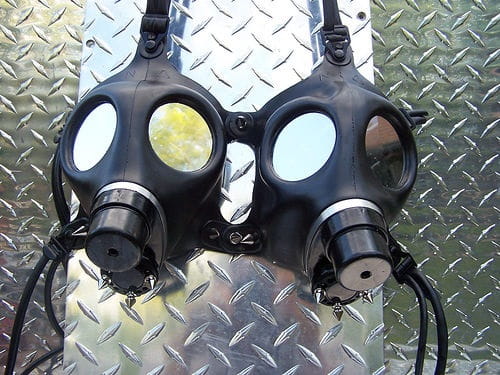 One of the most popular programs on satellite and cable television is National Geographic's Doomsday Preppers.  This program is solely dedicated to people that are preparing for a possible "doomsday" like a collapsed economy and an every-man-for-himself world.  This economy could induce food shortages, job loss, and the loss of utilities so many are preparing for a "worst-case" scenario.  The show involves many strategies in the event that society starts unraveling.  They have began the process of or already completed such things as like fortify homes, installing bunkers, arming themselves to the teeth, storing provisions by processing and dehydrating foods, and setting up water purification systems or storing water for long-term survival.  Will this be enough if, as they predict or prepare for, all hell breaks loose?
It saddens me that so many are putting their faith in provisions and fortifications because the futility of depending upon anyone but God is vanity.  There is no real security in human reasoning because in a world gone mad and one in which only the strongest survive, the depravity of humanity will rise so high as to make survival at all costs the priority.  Will even the most well armed fortifications be enough against a wave of starving masses of people?  I am not suggesting that we disarm the nation in the wake of the recent wave of mass killings.  This is not what this is about.  This is about the futility of finding security in human abilities or strength.  It is useless.  There is security and protection only in God and in Him alone can we trust.
The Bible is replete with Scriptures that point us to our only true source of security and that is the omnipotent God. There is no fortress, refuge or strong tower like Him.
"The Truth" Psalm 30:5 Every word of God is flawless; he is a shield to those who take refuge in him.
Psalm 18:2 The LORD is my rock, my fortress and my deliverer; my God is my rock, in whom I take refuge. He is my shield and the horn of my salvation, my stronghold.
Psalm 27:1-3 The LORD is my light and my salvation; Whom shall I fear? The LORD is the defense of my life; Whom shall I dread? When evildoers came upon me to devour my flesh, My adversaries and my enemies, they stumbled and fell. Though a host encamp against me, My heart will not fear; Though war arise against me, In spite of this I shall be confident.
Psalm 18:31 For who is God besides the LORD? And who is the Rock except our God?
Psalm 62:5-8 My soul, wait in silence for God only, For my hope is from Him. He only is my rock and my salvation, My stronghold; I shall not be shaken. On God my salvation and my glory rest; The rock of my strength, my refuge is in God. Trust in Him at all times, O people; Pour out your heart before Him; God is a refuge for us. Selah.
Proverbs 18:10 The name of the LORD is a strong tower; the righteous run to it and are safe.
Psalm 31:2-3 Turn your ear to me, come quickly to my rescue; be my rock of refuge, a strong fortress to save me. Since you are my rock and my fortress, for the sake of your name lead and guide me.
Psalm 144:2 He is my loving God and my fortress, my stronghold and my deliverer, my shield, in whom I take refuge, who subdues peoples under me.
Psalm 28:7 The LORD is my strength and my shield; my heart trusts in him, and I am helped. My heart leaps for joy and I will give thanks to him in song.
Psalm 62:5 Find rest, O my soul, in God alone; my hope comes from him.
Psalm 37:7 Be still before the LORD and wait patiently for him; do not fret when men succeed in their ways, when they carry out their wicked schemes.
Psalm 33:20 We wait in hope for the LORD; he is our help and our shield.
Psalm 59:9 O my Strength, I watch for you; you, O God, are my fortress,
"The Truth" Jer 16:19 O LORD, my strength and my fortress, my refuge in time of distress, to you the nations will come from the ends of the earth and say, "Our fathers possessed nothing but false gods, worthless idols that did them no good."
Conclusion
What will these "preppers" do if they are in their fortified, well supplied, and heavily armed bunkers and one of them has a heart attack, or gets cancer, or needs a dentist, or there is a fire, or…  Sadly, they are trusting only in themselves and there is no security in human endeavors.  For those who still trust in themselves and not in God, "This is what the LORD says: "Cursed is the one who trusts in man, who depends on flesh for his strength and whose heart turns away from the LORD" (Jer 17:5) because "It is better to take refuge in the LORD than to trust in man" (Psalm 118:8) and to not "put your trust in princes, in mortal men, who cannot save" (Psalm 146:3).
God speaks to all those who have not yet put their trust in Christ and to "Stop trusting in man, who has but a breath in his nostrils. Of what account is he" (Isaiah 22:2) because they "will be afraid and put to shame" (Isaiah 20:5).  You can prepare all your life for a coming catastrophe but there is no security except in God alone, no matter how well you prepare for a "doomsday".  The fact is that God "looks upon the lowly" (Psalm 138:6a) and even "though a host encamp against me, My heart will not fear; Though war arise against me, In spite of this I shall be confident" (Psalm 27:3) because "God is a refuge for us" (Psalm 62:8).  There is no other name by which we must be saved than that of Jesus Christ (Acts 4:12)
Guest Post by: Jack Wellman
Jack is a Christian Author and Freelance Writer.  He is Pastor at the Mulvane Brethren Church in Mulvane, Kansas.  Jack is also a Senior Writer for "What Christians Want To Know," as well as being the communications editor.  Jack is finishing receiving his masters in religous studies.  His books are available on Amazon.
Resources
photo credit: post apocalyptic design via photopin cc
www.youtube.com
NEW INTERNATIONAL VERSION BIBLE
THE HOLY BIBLE, NEW INTERNATIONAL VERSION®, NIV® COPYRIGHT © 1973, 1978, 1984, 2011 BY BIBLICA, INC.™ USED BY PERMISSION. ALL RIGHTS RESERVED WORLDWIDE