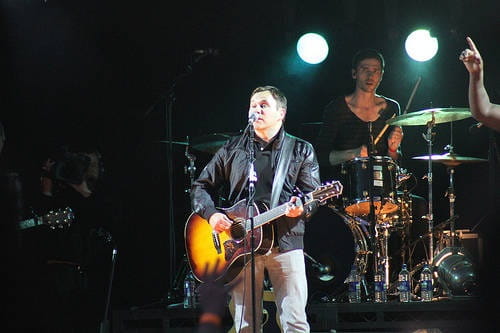 Exercise is good for the mind, body, soul and spirit. It keeps you focused on a goal and you can evaluate your progress relatively easily with a good eating plan. However, if you are like me, it is nice to play music while you run, lift weights, bike or whatever you do for exercise. Christian music alone can connect you with God. Combine Christian music with the determination to exercise and you can develop a passion to stay fit! Here are 25 Christian songs from "pop" to "metal" that can motivate you to push through those last bench presses or that last half mile of your run!
25. Living Sacrifice – Altered Life

24. The Afters – We Won't Give Up

"The Truth" Colossians 3:13 Bearing with one another and, if one has a complaint against another, forgiving each other; as the Lord has forgiven you, so you also must forgive.

23. War Of Ages – All Consuming Fire

22. Sanctus Real – Don't Give Up

21. Thousand Foot Crutch – Phenomenon

20. Pillar – Frontline

19. Decyfer Down – Fight Like This

18. Audio Adrenaline – Kings And Queens

17. Nine Lashes – Anthem Of The Lonely

16. Josh Wilson – I Refuse

15. Matt Redman – We Are The Free

14. Wolves At The Gate – Dead Man

13. Skillet – Awake And Alive

12. Casting Crowns – Until The Whole World Hears

11. Impending Doom – More Than Conquerors

10. Jeremy Camp – Take My Life
Favorite Lyric – "Laying all down before my King. Offering all my everything. Laying all down before the One I serve. I can understand the reasons why You came on this earth and died and now I give it all to You."
9. Matthew West – Hello My Name Is
Favorite Lyric – "Hello, my name is child of the One true King. I've been saved, I've been changed, and I have been set free. "Amazing Grace" is the song I sing. Hello, my name is child of the one true King.
Favorite Lyric – "And if our God is for us, than who could ever stop us? And if our God is with us, than what can stand against?"
7. Lecrae – Waste Your Life
Favorite Lyric – "Everyday I'm living tryin show the world why Christ is more than everything you'll ever try. Better than pretty women and sinning and living to get a minute of any women and men that you admire."
6. Kutless – Shut Me Out
Favorite Lyric – "But how can I contain the truth I hold inside with all the hurting people that I see? So I don't mind putting up with you, and all the things you say. I'm not about to stop or even change my ways."
5. TobyMac – Ignition
Favorite Lyric – "Turn on, turn on the ignition, everybody. Come on, come on and turn on the ignition."
4. News Boys – Born Again
Favorite Lyric – "This is what it is. This is who I am. This is where I finally take my stand. I didn't want to fall, but I don't have to crawl. I met the One with two scarred hands. Givin' Him the best of, everything that's left of the life inside this man. I've been Born Again."
3. Mercy Me – Move
Favorite Lyric – "When life won't play along and right keeps going wrong and I can't seem to find my way. I know where I am found, so I won't let it drag me down. Oh, I'll keep dancing anyway."
2. Fire Flight – Unbreakable
Favorite Lyric – "Sometimes it's hard to just keep going, but faith is moving without knowing. Can I trust what I can't see to reach my destiny? I want to take control but I know better. God I want to dream again, take me where I've never been. I wanna go there, this time I'm not scared. Now I am unbreakable, it's unmistakable. No one can touch me, nothing can stop me."
1. As I Lay Dying – Overcome
Favorite Lyric – "Some say to release it, forget about your past. Instead we count the cost, it's part of us. That doesn't mean that we cannot move on. It's just a memory of what we once were. No matter what it is we've faced It's now part of us (part of us). We can overcome."
Conclusion
These are 25 of my favorite songs to work out too. The Christian message behind them all is perfect and the intensity and quickness of them makes for a great time building those muscles and strengthening those lungs. What are some of your favorite songs to work out too? Please feel free to comment below on some of your favorite ones! I encourage you that if you don't work out already to start. It is a great way to relieve stress and it keeps you in shape! God bless!
If you enjoyed this list of motivational workout songs, you should check out Derek's article on top Christian contemporary songs of today.
Resources- The Holy Bible, English Standard Version"Scripture quotations are from The Holy Bible, English Standard Version® (ESV®), copyright © 2001 by Crossway, a publishing ministry of Good News Publishers. Used by permission. All rights reserved.", www.youtube.com, photo credit: p_c_w via photopin cc