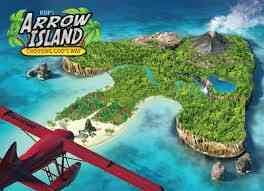 Churches across the country will begin kicking off their 2014 Vacation Bible School weeks in less than four months! This is an exciting week for pastors, ministers, church leaders, parents and kids because it gives children a fun way to promote their Christian growth to their friends. Many blessings come from VBS week, but there is a lot of planning required in order to reap those blessings. If your church hasn't already chosen it's 2014 VBS theme, here's a lengthy list of some of the hottest themes to consider.
"The Truth": Colossians 3:16 "Let the word of Christ dwell in you richly, teaching and admonishing one another in all wisdom, singing psalms and hymns and spiritual songs, with thankfulness in your hearts to God."
Agency D3 – Discovery Decide Defend by Lifeway
Develop young detectives for Christ during a week of collecting and logging evidence of Jesus. Kids will build a solid case for Christ.
Arrow Island by Regular Baptist Press
Guide kids on how to choose and follow God's will in this island adventure VBS program. Children will learn why being obedient, developing Godly friendships, practicing kindness, being courageous and having active faith will help them throughout life.
Blast Off by Group Publishing
This space-themed Vacation Bible School week will help students learn about God's endless love as they explore the universe and Bible.
Gangway to Galilee by Concordia VBS
Kids will learn about God's amazing grace as they voyage through the Sea of Galilee and follow Jesus' steps with the disciples.
International Spy Academy VBS by Answers VBS
Transform kids into agents for Christ with secret decoder rings, mirror glasses, flashlights, handbooks and training.
It's a Blue Ribbon Life by 21st Century Christian, Inc.
This theme brings the fair to life and teaches what the fruits of the spirit are, as well as how to live a life for Christ.
Jungle Safari by Standard
Take students on a safari through the jungle and teach them how God is their creator, protector and savior.
MEGA Sports Camp by Gospel Publishing House
If your church is active in sports, then this theme will fit in perfectly and can also be used to strengthen the faith of players on teams.
Praise Break by Abingdon
Teach kids the importance of praising God and building a community within the church. Topics focus on include praise, faith and prayer, truth-telling, stewardship and leadership.
Promised Land or Bust! – Wilderness Road Adventures by 21st Century Christian, Inc.
Help kids follow the Israelites out of Egypt and choose to stay on the straight and narrow path to the promised land or end up falling as they lose faith.
Scavenger Hunt – Finding My Place in God's Story by Brentwood-Benson
Help quest-seekers find their way through scripture and learn valuable lessons in God's will for their lives.
SonTreasure Island by Gospel Light
This VBS theme is all about how valuable God's love is. Think bring colors, island getaway and tropical scenery.
The Jesus Connection by Urban Ministries
Even the youngest students need a reminder that Jesus is always available. This VBS theme will show kids how to stay connected with Christ.
Weird Animals by Group Publishing
Help teach kids the beauty of being different and how to navigate when they feel weird or out of place. The activities and lessons are unique each day.
Wilderness Escape by Group Publishing
Take VBS students on Moses' journey through the wilderness, including what it was like dealing with the Israelites.
Willies Redneck Rodeo by Korie Roberston & Chrys Howard of Duck Dynasty
Kids will learn Christian family values as leaders role-play Wille, Jep, Philip, Godwin, Martin, Si and Jase from Duck Dynasty for a Redneck Vacation Bible School.
Workshop of Wonders by Cokesbury
Show children how a simple workshop of tools, such as a hammer and a paintbrush can turn the mundane into extraordinary with God's help.
"The Truth": Hebrews 4:12 "For the word of God is living and active, sharper than any two-edged sword, piercing to the division of soul and of spirit, of joints and of marrow, and discerning the thoughts and intentions of the heart."
Final Thoughts
No matter what theme you select, focus on fulfilling God's will during the week and reaching kids and adults who may never have heard of Christ. Children and parents attend VBS for a number of reasons, so be open minded and welcoming to all who attend. Different themes will impact a group of children in varying ways. For example, if your church is located in the middle of a city and you select a farm theme, consider the fact that some kids may never have had the opportunity to go to a farm. Think of the fun of bringing a few real farm animals and the number of families you could encourage to attend! There are so many possibilities with all of these themes, so pray that God guides you to make the right decisions for your potential attendees!