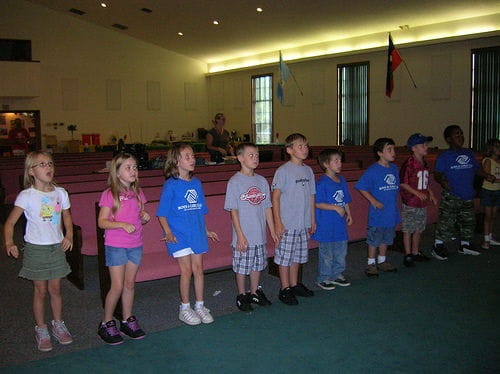 With summer camp, ice cream and lazy summer days calling, churches are revving up for Vacation Bible School. Some churches create their own themes, but many churches opt to order pre-made themes. Purchased themes usually include the teaching and activity materials, giveaway items, decorations and craft supplies. I love to see which themes my local churches select and often notice quite the variety!
Here are my top-ten VBS themes for 2013.
"The Truth" Galatians 5: 22 – 23 "But the fruit of the Spirit is love, joy, peace, patience, kindness, goodness, faithfulness, gentleness, self-control; against such things there is no law."
10. SonHarvest County Fun Fair
Take kids down on the farm to learn about the fruits of the spirit. Decorate using various tractor posters, kids zone tape, a growing garden and vinyl red barn doors. Children will enjoy farm-themed sun catchers, badge holders, notepads, stickers, bookmarks and a fruit of the spirit book. You can purchase a guidebook for crafting ideas that keep the cost low.
9. Gotta Move
This active VBS theme incorporates movements while teaching what is means to walk with God and be a Christian. Various posters are available for decorating and a craft kit includes making a boomerang, decorating a scripture ark box and a map Bible cover. There are also various giveaway items to choose from, including lanyards and t-shirts. This theme provides the ideas, music and teaching materials to get started.
8. Over the Top
This carnival theme focuses on teaching kids to trust in God to make anything happen. Oriental Trading has designed many options for decorating, trinkets to giveaway and crafts that go along with the theme. You can purchase backdrops, banners, table runners and even a roller coaster cart stand up. Trinkets include mini yo-yos, mini beach balls, kites, sticker books, gummy fun packs, lollipops, stickers, Frisbees and backpacks. Kids will enjoy creating picture frame magnets, prayer journals, bookmarks, bracelets, binoculars and other fun crafts.
7. Mighty Kingdom
Teach kids about God's kingdom and plan for their lives through this colorful and fun VBS theme. Transform your church building with a variety of decorations, including multiple backgrounds to hang on the wall, balloons, crowns, inflatable swords, wind chimes, a cobblestone aisle runner and a 3D castle. Give kids a variety of crafts to choose from with backpacks to color, magnetic frames to decorate, posters to color and bookmarks, prism crowns and necklaces to make. Reward students for their hard work with Viking rubber duckies, stickers, beach balls, cups, pencils and posters.
6. Wild West
This is a favorite theme and a fun way for kids to learn about God. Decorations available include western cutouts, barbwire cord, photo door banner, fan bursts, balloons, party lanterns, personalized banners, 3D red barn doors and a 3D ranch entry arch. Fun craft ideas include make-a-horse and make-a-rodeo-cowboy sticker sets, activity mats, cowboy hats to decorate and bracelets to make. Choose from many trinkets, including certificates of completion, photo cards, deputy sheriff badges, cowboy erasers, notepads and cowboy-shaped candy fun packs.
"The Truth" Matthew 6:33 "But seek first the kingdom of God and his righteousness, and all these things will be added to you."
5. Kingdom Chronicles
A battle is waging between God's kingdom and Satan's kingdom! Help kids learn how to navigate through this battleground and become valiant warriors for God. Use balloons, rotation signs, posters, puppets and an armor of God play set to bring the action to life. The materials come with a guidebook for crafting on a budget. Giveaway trinkets include lanyards, pencils, wristbands, puzzles, stickers, collectable cards, bookmarks and water bottles.
4. SonRise National Park
This vibrant theme focuses on teaching kids about peace, riches, power, love and hope. Many types of decorations are available, including a coloring mural, balloons, posters, wall cutouts, backdrops, an inflatable eagle and an inflatable seaplane. The bundle of materials comes with a crafting guidebook so you can use materials you already have to put together low-cost crafting activities. Send kids away with stickers, keepsake pins, water bottles, skin decals and fridge magnets.
3. Pillar of Strength
Show kids what it means to see God as their pillar of strength and take them back in time to ancient Greece. Decorate with tropical leaves, vine garland, palm leaf serving trays, banners, marble looking fluted pillars and event adult Caesar and Greek warrior costumes. Help kids decorate a magnetic frame, make a wreath headband and put together a pillar of strength prayer journal. Send them home each night with candy fun packs, name buttons, gold coins, story wheels and leaf leis.
2. Colossal Coaster World
This theme provides a roller coaster of fun while teaching kids to conquer their fears and trust in God. Bring your space to life with various backdrops, string flags, tablecloths, wall art, floor prints, signs and a giant inflatable globe. Plan fun activities during craft time, including Ferris wheel puzzles, colossal camera card, storm-tossed ship, fireworks kazoo, backpacks to color and other crafts using sticky foam shapes. Give kids stickers, wristbands, pencils, keychains, treat bags and other trinkets to remember the fun week.
1. Jungle Journey
Leads kids on a journey through God's jungle. Decorations available include inflatable buffets, table skirts, giant jungle sticker scenes and table covers. Plan fun crafts with sticky shapes, decorating magnetic frames and other small decorations that can be used for fun crafting activities. There are plenty of trinkets to choose from for giveaways, including jungle tattoos, bookmarks, ornaments, bandanas, wildlife taffy, zoo animal kaleidoscopes, stickers, folding fans and cellophane bags to hold the goodies.
"The Truth" Matthew 19:14 "Jesus said, "Let the little children come to me and do not hinder them, for to such belongs the kingdom of heaven."
No matter what theme your church has chosen for this year's VBS, remember to focus on making God real to the kids. It takes a lot of people to make VBS happen and it's a great way to introduce God to families within the community. I have fond memories from VBS growing up and have been impressed at how elaborate themes have become to offer an experience kids will remember.
 Check out this other F&E article also about vacation Bible school:  10 Best VBS Games For Kids
Resources- The Holy Bible, English Standard Version"Scripture quotations are from The Holy Bible, English Standard Version® (ESV®), copyright © 2001 by Crossway, a publishing ministry of Good News Publishers. Used by permission. All rights reserved.", www.youtube.com, photo credit: stickwithjosh via photopin cc