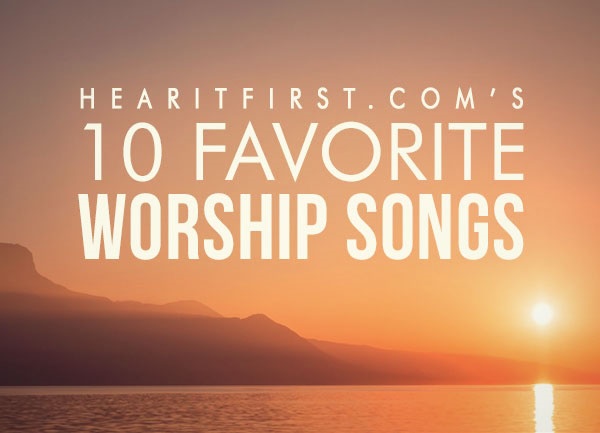 For many of us, music is one of the most meaningful forms of worship as it offers unity among Believers and connects us in a unique way to the heart of God. Worship songs give us the opportunity to humbly sit at the feet of our living God and worship Him with our voices.
Here are 10 songs that highlight the truths that He is God, He is Father, He is the Holy Spirit and He alone is worthy of our worship. Join these gifted artists as they take us on an inspirational journey to discover God's amazing and merciful love through music.
1. Because He Lives (Amen) by Matt Maher
What do you believe? This statement of faith set to a powerful melody is a reminder that although you were once covered in sin and shame that His blood poured out on the cross now covers it all. As the intensity of the music builds in the chorus it propels your heart to believe that by the power of His blood, Because He Lives, you live.
2. At Your Feet (Surrender) by Dan Bremnes
There is no more humble place to be than at the feet of Jesus. It is there where he offers us mercy, grace and forgiveness as we completely surrender to Him. Close your heart eyes as you listen to this one and place yourself humbly at his feet receiving His mercy, grace and forgiveness. It is His desire for you today.
3. First by Lauren Daigle
"Before I speak a word I will bring my heart and seek you first." Raise your arms and lift your head to Lauren Daigle's worshipful lyrics that emphasize the importance of making Christ and our worship to Him first in our daily lives. If we give our needs, our cares, our pains, our hearts to Jesus, seeking Him first, it will set us on the right course.
Do you feel alone, undesirable and overwhelmed in your imperfections? This expression of worship is composed with deep meaning and relatable lyrics to reminding you of God's tenderness and that you are never alone. As you search for answers, He knows what you need before you even say one word. Loved by Him is who you are and a Good Good Father is who He is.
5. Cornerstone by Hillsong Worship
Simply put, if the cornerstone fails, the house will fall. A strong faith foundation requires that you begin building your faith on the Cornerstone, the Lord of all. You cannot put your trust in anything or anyone else. Your foundation will only be strong when it is built on Christ alone. When the storms come your way, your faith will help you stand firm. Worship the Cornerstone now with Hillsong.
6. Every Giant Will Fall by Rend Collective
With one stone, a skilled aim and big faith, David's giant fell. You can be great in battle if you have faith that nothing is impossible in Christ. His love breaks chains, brings truth to lies and hope in the fight. His love slays giants and moves mountains. His love is your battle cry. Take this to heart in your faith battle today.
7. Unstoppable God by Elevation Worship
This offering from Elevation Worship declares the glory and freedom that you have because God is unstoppable. He does indeed do impossible things. Are there areas in your life where you are feeling defeated? Areas that you need to claim His Kingdom's reign over? Nothing is impossible for Him. Lift your voice to the Unstoppable God and praise Him for His faithfulness.
8. Holy Spirit by Francesca Battistelli
The Holy Spirit's desire is to fill His home – your heart. He longs to fill you with His living hope, His glory, His power. Welcome the power of the Holy Spirit into your life today. Let Him overcome you with His presence and the glory of His goodness as you worship with Francesca Battistelli's heartfelt prayer.
9. Come As You Are by Crowder
Are you longing for rest? Jesus extends His invitation for us to find comfort in our sadness, in our shame and to bring our burdens and broken hearts to Him. "Earth has no sorrow that Heaven can't heal." You can experience this rest through Crowder's scripture-based lyrics as you listen to Christ singing his heart's desire over you to Come As You Are and fall into His loving arms.
10. You Make Me Brave by Amanda Cook & Bethel Music
Jump in the waves! No longer shall you sit comfortably on the shore. This favorite from Bethel Music, sung by Amanda Cook, encourages that anything can be conquered with Jesus. When the storm comes and brings wave after wave, you will have the power to be brave because Christ's love made the way for you. His victory on the cross empowers you to go beyond your fears and claim your brave.
These 10 Worship Favorites place us on the path to seeking Him first, having a big, brave faith, surrendering, and resting at the feet of the living God. May you continually worship Him in all of His goodness, glory, power and merciful love.
For more great worship songs, check out Top Worship Songs on Spotify
.
Article by Andrea Stunz
I'm a born-and-raised Texan who enjoys any adventure that requires a passport. As a Christ-following pilgrim, I'm a lover of stories and a connoisseur of sunrises and coffee - best when served together. I listen to a wide range of musicians with Andrew Peterson, Jimmy Needham and Bethel Music being just a few of my favorites. When I'm not writing, you'll find me in the kitchen or spending time with those I love.