Christian Actor Aaron Fullan Hilariously Discusses Sneeze Types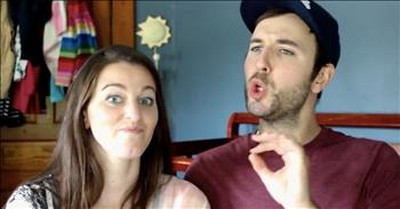 Christian Actor Aaron Fullan tackles the tickling subject of "sneeze types" in this hilarious video discussion. Fullan and his wife, Tabitha, ask the very pertinent question of "which sneeze type are you?" Using comical names to distinguish each type of "sneezer" Aaron Fullan breaks down the differences by demonstrating each one! We've all come across one of these sneezers at some point in our life… which one are YOU?

Ever had the experience of sitting next to some who did the "yell" sneeze? You know the one, where it's so loud that even when you're expecting them to sneeze you still find yourself jumping! No doubt you've experienced this harrowing experience at least once. The second type of sneezer is the "barbie". This dainty "achooer" is such a delicate flower that sneezes so gently you almost thank them for their sneeze! We liken these to a storybook princess.
The "Rev Up and Spew" is the third and perhaps messiest in the list of sneezers. These are the folks that you want to be far away from during cold and flu season! There is no doubt these folks want to share their germs with everyone. When you are near someone who begins the sneeze "rev" there is a gut reaction to run and hide!
In stark contrast to the "Rev Up and Spew" are the "Stifle". These are the folks that desperately want to be a "barbie". Folks who stifle are folks who want to keep their sneezing moment to themselves. If we had to evaluate personalities based on sneezes, these would be your introverts. Stifle sneezers are acutely aware of their surroundings and hold to hold in that sneeze. Unfortunately according to the Fullans, these often become the messiest sneeze as it often results in a muffled sneeze spread on their hands and face! Ew!
The final sneeze pattern is the "Plug and Sigh". We had to laugh at this one after realizing that we know quite a few "plug and sigh" folks! This sneezer feels the episode coming on and decides to clamp down on their nose thus the "plug" whi
hulahan

1816 views

2018-10-11T15:07:00

source: Aaron Fullan Christian Actor Aaron Fullan tackles the tickling subject of "sneeze types" in this hilarious video discussion. Fullan and his wife, Tabitha, ask the very pertinent question of "which sneeze type are you?" Using comical names to distinguish each type of "sneezer" Aaron Fullan breaks down the differences by demonstrating each one! We've all come across one of these sneezers at some point in our life… which one are YOU?

Ever had the experience of sitting next to some who did the "yell" sneeze? You know the one, where it's so loud that even when you're expecting them to sneeze you still find yourself jumping! No doubt you've experienced this harrowing experience at least once. The second type of sneezer is the "barbie". This dainty "achooer" is such a delicate flower that sneezes so gently you almost thank them for their sneeze! We liken these to a storybook princess.

The "Rev Up and Spew" is the third and perhaps messiest in the list of sneezers. These are the folks that you want to be far away from during cold and flu season! There is no doubt these folks want to share their germs with everyone. When you are near someone who begins the sneeze "rev" there is a gut reaction to run and hide!

In stark contrast to the "Rev Up and Spew" are the "Stifle". These are the folks that desperately want to be a "barbie". Folks who stifle are folks who want to keep their sneezing moment to themselves. If we had to evaluate personalities based on sneezes, these would be your introverts. Stifle sneezers are acutely aware of their surroundings and hold to hold in that sneeze. Unfortunately according to the Fullans, these often become the messiest sneeze as it often results in a muffled sneeze spread on their hands and face! Ew!

The final sneeze pattern is the "Plug and Sigh". We had to laugh at this one after realizing that we know quite a few "plug and sigh" folks! This sneezer feels the episode coming on and decides to clamp down on their nose thus the "plug" whi
Top Artists
Top Music Videos