4-Year-Old Gives Funny Advice To The New Baby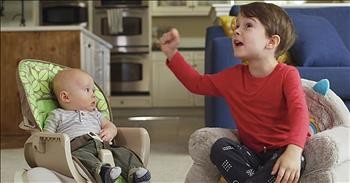 Mom Kristina Kuzmic is known all over the Internet for her honest advice and ability to talk about the daily struggles of life. Usually, she blends humor with her commentary, but today she's stepping away from the camera and letting her son run the show.

Just watch as this 4-year-old offers up some hilarious advice to his friend, Finn. "I've been on this earth for four long years. From one man to another, here's my advice." And as soon as he starts talking, I was laughing out loud. This funny clip is full of great points such as "When Mommy and Daddy say, 'No,' always ask grandma. Grandma always says, 'Yes.'" This hilarious toddler continues to delight his little friend with advice like, "You gotta give your momma a hug every day" and "Grown-ups will try to get you to sleep more. Don't do it. You might miss out on something exciting."
I just love watching the sweet expressions on this baby's face as he intently listens to the older generation. It truly seems like he is soaking in all of this worldly advice. It's obvious that these two are going to have each other's backs when they are older. And it's so sweet to see this toddler try and get some giggles and smiles from the baby. This dose of happiness was just what I needed today.
Mark 10: 13-15 "13 People were bringing little children to Jesus for him to place his hands on them, but the disciples rebuked them. 14 When Jesus saw this, he was indignant. He said to them, "Let the little children come to me, and do not hinder them, for the kingdom of God belongs to such as these. 15 Truly I tell you, anyone who will not receive the kingdom of God like a little child will never enter it."
godtube-inspiration

47962 views

2018-12-20T14:47:00

source: Kristina Kuzmic Mom Kristina Kuzmic is known all over the Internet for her honest advice and ability to talk about the daily struggles of life. Usually, she blends humor with her commentary, but today she's stepping away from the camera and letting her son run the show.

Just watch as this 4-year-old offers up some hilarious advice to his friend, Finn. "I've been on this earth for four long years. From one man to another, here's my advice." And as soon as he starts talking, I was laughing out loud. This funny clip is full of great points such as "When Mommy and Daddy say, 'No,' always ask grandma. Grandma always says, 'Yes.'" This hilarious toddler continues to delight his little friend with advice like, "You gotta give your momma a hug every day" and "Grown-ups will try to get you to sleep more. Don't do it. You might miss out on something exciting."

I just love watching the sweet expressions on this baby's face as he intently listens to the older generation. It truly seems like he is soaking in all of this worldly advice. It's obvious that these two are going to have each other's backs when they are older. And it's so sweet to see this toddler try and get some giggles and smiles from the baby. This dose of happiness was just what I needed today.

Mark 10: 13-15 "13 People were bringing little children to Jesus for him to place his hands on them, but the disciples rebuked them. 14 When Jesus saw this, he was indignant. He said to them, "Let the little children come to me, and do not hinder them, for the kingdom of God belongs to such as these. 15 Truly I tell you, anyone who will not receive the kingdom of God like a little child will never enter it."
Today's Devotional
A Prayer for Strength to Endure - Your Daily Prayer - May 29
Top Artists