2 Men Perform Acoustic Rendition Of 'Because He Lives'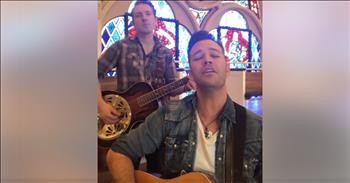 Two talented musicians step inside a church for a beautifule performance of 'Because He Lives.'

There's nothing like hearing a classic hymn to truly make you feel alive for the Lord. Those old school tunes make you stand up and shout your love for the whole world to hear. And that's exactly what happens when you hear this powerful rendition of 'Because He Lives' from Lucas Hoge and his friend.
"Because He lives
I can face tomorrow
Because He lives
Every fear is gone
I know He holds my life my future in His hands"
These two voices come together in the most beautiful way to perform this iconic hymn. This is such a perfect reminder that with God by our side there is truly nothing we cannot face.
He is our light and our strength when times get tough. And no matter what, He will always be waiting for us with outstretch arms to take us home.
God truly takes all of our broken pieces and makes them whole again. And it's all because He lives. Just like the lyrics say, together, we can face tomorrow and that is a beautiful truth we should be shouting from the rooftops. Who else always enjoys this classic hymn?
Luke 24:6-7 "6 He is not here; he has risen! Remember how he told you, while he was still with you in Galilee:
7 'The Son of Man must be delivered over to the hands of sinners, be crucified and on the third day be raised again.'"
godtube-inspiration

84256 views

2018-02-27T10:07:00

source: LucasHoge Two talented musicians step inside a church for a beautifule performance of 'Because He Lives.'

There's nothing like hearing a classic hymn to truly make you feel alive for the Lord. Those old school tunes make you stand up and shout your love for the whole world to hear. And that's exactly what happens when you hear this powerful rendition of 'Because He Lives' from Lucas Hoge and his friend.

"Because He lives
I can face tomorrow
Because He lives
Every fear is gone
I know He holds my life my future in His hands"

These two voices come together in the most beautiful way to perform this iconic hymn. This is such a perfect reminder that with God by our side there is truly nothing we cannot face.

He is our light and our strength when times get tough. And no matter what, He will always be waiting for us with outstretch arms to take us home.

God truly takes all of our broken pieces and makes them whole again. And it's all because He lives. Just like the lyrics say, together, we can face tomorrow and that is a beautiful truth we should be shouting from the rooftops. Who else always enjoys this classic hymn?

Luke 24:6-7 "6 He is not here; he has risen! Remember how he told you, while he was still with you in Galilee:

7 'The Son of Man must be delivered over to the hands of sinners, be crucified and on the third day be raised again.'"
Today's Devotional
A Prayer to Be Sober-Minded - Your Daily Prayer - July 7
Top Artists